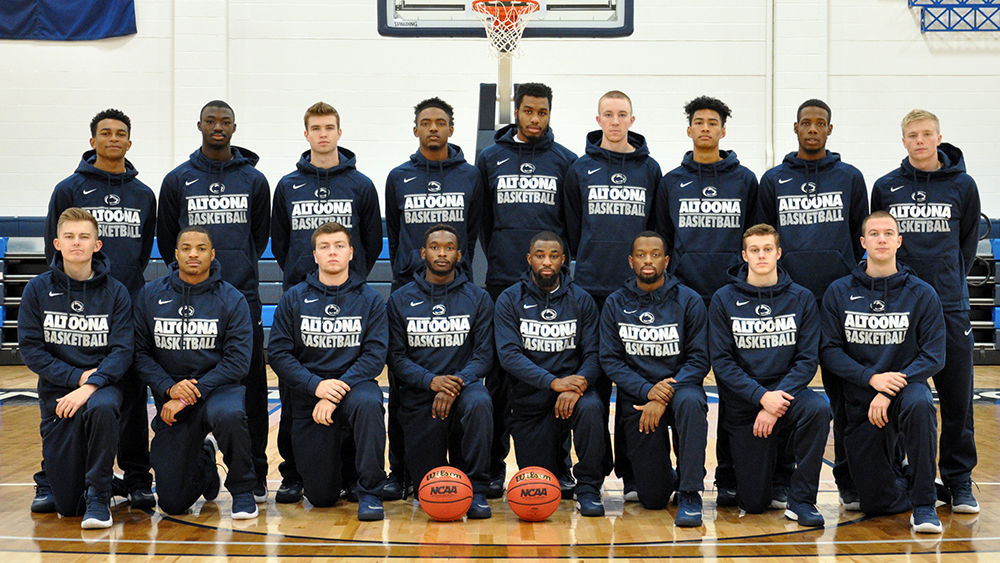 DANBURY, Conn. – The Penn State Altoona men's basketball team learned on Monday afternoon that its 2017-18 season was not yet over, as the Lions were granted a berth into the Eastern College Athletic Conference's Division III Championship Tournament.
Penn State Altoona is one of 15 teams selected to compete for the ECAC Division III championship. The Lions earned the number four seed in Pod 4 of the bracket and will travel to play the top seed in the pod, Bethany College, this Wednesday, February 28 at 7:00 p.m. in the first round of the tournament.
This marks the second consecutive year that Penn State Altoona men's basketball has been given a berth to compete in the ECAC Division III Tournament, as well as the third time in program history.
"Very excited to learn about our bid into this year's ECAC postseason tournament. This year's field of declared teams was a very, very strong field of high quality NCAA Division III institutions and basketball programs," said Penn State Altoona head coach David McGreal. "We are very honored to have been selected by the committee based on our performance this year on the floor. With that being said, we have an opportunity now to get back on the floor and finish this year on a more positive note."
Wednesday's game will be a rematch of last season's ECAC Tournament first round matchup, as the Lions traveled to Bethany on March 1, 2017 and suffered an 82-57 loss.
"Being able to get into the ECACs two years in a row is a first in the program's history, but with that, we have to go back to the site of our tournament loss last year and play a very talented, well-coached, and strong Bethany Bison team at their place," said McGreal. "Last year, I think we were a little overwhelmed by them and were just happy with getting the bid. This year, hopefully we can focus in more on going over there to really compete and try to get the first ECAC win in program history."
With the ECAC Tournament berth, Penn State Altoona men's basketball has the chance to keep its outstanding season alive. The Lions (17-9, 13-5 AMCC) placed fourth in the Allegheny Mountain Collegiate Conference's regular season standings and were ousted from the conference tournament with a 77-72 loss to third-seeded Hilbert College last Wednesday night. Penn State Altoona's 17 wins represented the most wins in a season in men's basketball program history, and now the Lions have an opportunity to add to that total while chasing their first-ever ECAC title.
Bethany (16-12, 14-4 PAC) finished as the Presidents' Athletic Conference runners-up in the regular season and went on to lose 78-73 to Thomas More College in the PAC championship game this past Saturday. For the Bison, this is the second year in a row that the team has been picked to compete in the ECAC Division III Championship Tournament. Last year, after defeating Penn State Altoona in the opening round, Bethany went on to win 88-81 over Moravian College in the quarterfinals before falling 83-63 to Stockton University in the semifinal round.
In the all-time series between the two men's basketball teams, Bethany holds a 9-2 advantage over Penn State Altoona. Wednesday night's game features a matchup of two seniors who led their respective conferences in scoring this season, as Lions senior guard/forward Ishimeal Nance (Muscle Shoals, AL/Muscle Shoals) averaged 19.0 points per game and scored a total of 495 points to lead the AMCC and Bethany senior guard Calique Jones put up 19.0 points per game and totaled 533 points to lead the PAC.
Wednesday night's winner will advance to the ECAC quarterfinals this Friday, March 2, which will be hosted by the tournament's overall number two seed, Wilkes University. That quarterfinal game is scheduled for 2:00 p.m. against the winner of Wednesday's Pod 4 matchup between number two seed Westminster College and number three seed Medaille College.
The ECAC semifinal and championship rounds are set for Saturday, March 3 and Sunday, March 4.