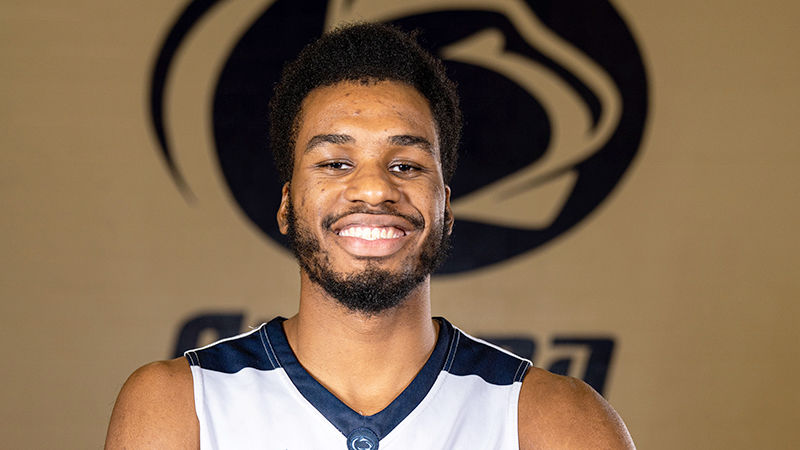 NORTH BOSTON, N.Y. — Penn State Altoona senior center Cameron Gardner-Nicholson was named the Allegheny Mountain Collegiate Conference's Player of the Week in men's basketball on Monday, Feb. 24.
Gardner-Nicholson was dominant in the paint for the Lions in three AMCC games last week, including recording his team-leading ninth and 10th double-doubles of the season.
In Monday night's double-overtime loss to Franciscan University, Gardner-Nicholson finished with 18 points and 14 rebounds while also blocking seven shots, tying for the second-most blocks in a single game in team history. In a loss at Mount Aloysius College on Wednesday evening, he scored a team-high 13 points to go along with four rebounds. Gardner-Nicholson's best performance of the week came in Saturday's victory over Hilbert on his Senior Day when he put up a season-high 26 points and also tied his season-high with 19 rebounds, tying for the third-most rebounds in a game in program history. He also contributed six blocks to tie for the fourth-most blocks in a game in Lions history.
On the week, Gardner-Nicholson averaged 19.0 points per game, 12.3 rebounds per game, 4.3 blocks per game, and 1.0 steal per game. He also shot an impressive 75.0 percent from the floor.
In the AMCC this season, the senior center currently ranks first in field goal percentage (68.0) and offensive rebounds (93), second in blocks (56) and blocks per game (2.2), third in total rebounds (233) and rebounds per game (9.3), and fifth in defensive rebounds (140).
This is Gardner-Nicholson's second AMCC Player of the Week recognition this season, and it is also the third of his collegiate career.
Penn State Altoona men's basketball is 15-10 overall this season, and the Lions finished the regular season with an 11-9 record within the AMCC. As the four seed in the conference tournament, Penn State Altoona will host fifth-seeded Hilbert in a first-round playoff game at 7 p.m. Tuesday, Feb. 25.