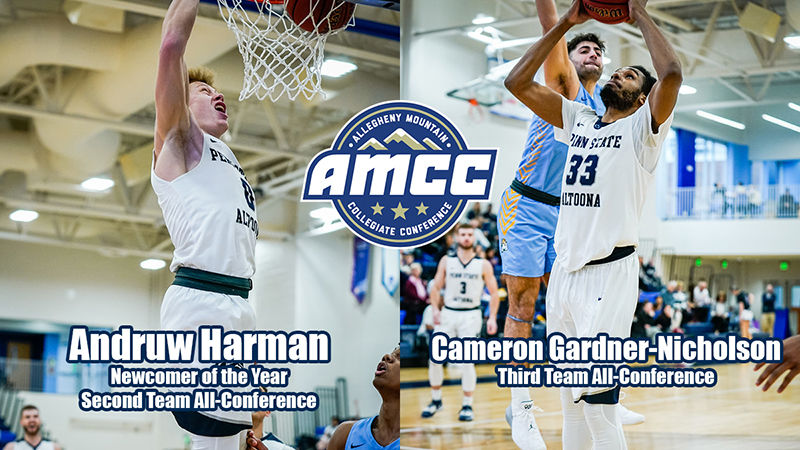 NORTH BOSTON, N.Y. — Two Penn State Altoona men's basketball players were recognized for their strong performances during the 2019-20 season on Tuesday, March 3, when the Allegheny Mountain Collegiate Conference announced its postseason awards.
Sophomore guard/forward Andruw Harman (Chesapeake, Virginia/Great Bridge) was voted the AMCC's Newcomer of the Year while also taking second-team All-Conference honors. Meanwhile, senior center Cameron Gardner-Nicholson (Philadelphia, Pennsylvania/Boys' Latin Charter) took third-team All-Conference status.
In his first season playing collegiate basketball, Harman excelled at both ends of the court for the Lions. The sophomore played in all 27 games, including making 23 starts. In the AMCC, he ranks second in steals (48), third in blocks (45), blocks per game (1.7), and defensive rebounds (174), fourth in total rebounds (218) and steals per game (1.8), fifth in rebounds per game (8.1), eighth in field goals made (143) and points (393), 10th in free throws made (84), 15th in offensive rebounds (44), 16th in assists (65), and 18th in points per game (14.6) and points per 40 minutes (20.3).
Harman recorded eight double-doubles this season for the Lions, and he also set a new Penn State Altoona men's basketball single-season record for defensive rebounds with 174.
Gardner-Nicholson capped his excellent four-year Penn State Altoona men's basketball career with a strong senior campaign. The center started all 27 games for the Lions and was a two-time AMCC Player of the Week. This season, Gardner-Nicholson leads the AMCC in field goal percentage (67.7) while ranking second in blocks (60), blocks per game (2.2), and offensive rebounds (99), third in total rebounds (250) and rebounds per game (9.3), fourth in defensive rebounds (151), 12th in field goals made (132), 18th in free throws made (63), 22nd in points scored (327), 25th in free throw percentage (56.3), and 29th in points per game (12.1).
Gardner-Nicholson led Penn State Altoona with 11 double-doubles this season. Among all NCAA Division III men's basketball players, the senior is 16th in total blocks, 21st in blocks per game, 22nd in offensive rebounds per game, 36th in total rebounds, 43rd in double-doubles, and 55th in rebounds per game. Gardner-Nicholson's field goal percentage of 67.7 percent this season represents a new Lions single-season record.
In the men's basketball program's career record books, Gardner-Nicholson is first all-time in field goal percentage (63.3), rebounds (761), defensive rebounds (491), offensive rebounds (270), and blocks (240), and he is tied for first in games played (105). Additionally, he is ninth all-time in points scored with 846 points during his Lions career.
This is Gardner-Nicholson's second career appearance on an AMCC All-Conference team. Last year, he was a third-team All-AMCC pick while also taking conference Defensive Player of the Year honors.
Penn State Altoona men's basketball is 16-11 overall and posted an 11-9 mark in the AMCC, a conference record that placed the Lions fourth in the league's regular-season standings. Penn State Altoona reached the AMCC's final four, suffering a loss in the tournament's semifinal round to eventual champion La Roche University last Friday.
The Lions' season is not finished, however, as the team earned a berth into the Eastern College Athletic Conference's Division III Championship Tournament and will host a first-round home game against Hood College this Wednesday, March 4, at 7 p.m.