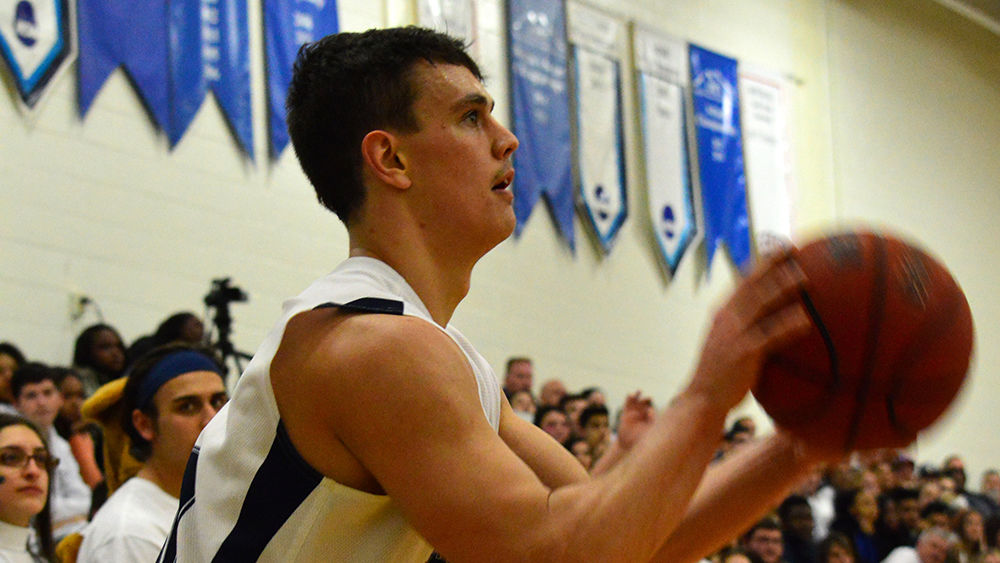 KANSAS CITY, Mo. – Penn State Altoona men's basketball guard/forward Quinn Luhr (Johnsonburg, PA/Johnsonburg) picked up a national academic honor on Tuesday, when he was named to the National Association of Basketball Coaches' (NABC) 2016-2017 Honors Court.
"I am so proud of Quinn and his accomplishments here at Penn State Altoona, and being named to the NABC Honors Court caps off an outstanding career and exceptional senior season," said Penn State Altoona men's basketball head coach David McGreal. "Quinn is the quintessential NCAA Division III athlete. He was a hardworking, blue collar type of young man who understood the value of academics within the collegiate setting."
For the past 11 years, the NABC Honors Court has recognized men's collegiate basketball student-athletes who excelled in academics each season. To qualify for inclusion on the Honors Court, a student-athlete must meet a high standard of academic criteria.
The qualifications are as follows:
1. Academically a junior or senior, and a varsity player.
2. Cumulative grade point average (GPA) of 3.2 or higher at the conclusion of the 2016-2017 academic year.
3. Students must have matriculated at least one year at their current institution.
4. Member of an NCAA Division I, II, or III, or NAIA Division I or II institution with an NABC member coach.
Luhr was a four-year member of the Lions basketball program who completed his senior campaign this past season. In the 2016-2017 academic year, he posted a 3.37 GPA. Luhr graduated from Penn State Altoona in May with a Bachelor of Science in Electro-Mechanical Engineering Technology.
"Quinn had a breakout year on the court this year for us, and he continued to be a standout student in the classroom in one of the most demanding degree programs on our campus," said McGreal. "Quinn will be sorely missed and really hard to replace. I wish him the best in his future."
Luhr is the fourth Penn State Altoona men's basketball student-athlete in program history to be named to the NABC Honors Court. Past Lions basketball players who received the recognition were Quintin Dziabo (2007-2008), Matt Gehret (2012-2013), and Jordan Stiles (2012-2013).
The NABC was founded in 1927 by Phog Allen, the legendary basketball coach at the University of Kansas. The organization currently has nearly 5,000 members consisting primarily of university and college men's basketball coaches.