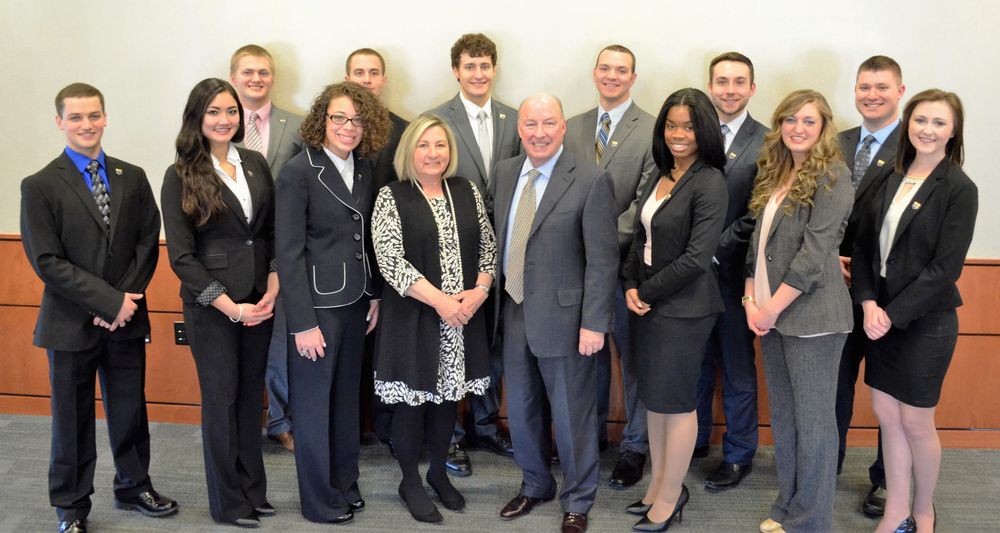 Penn State Altoona celebrated the fifth class of Sheetz Fellows Feb. 27, during an induction ceremony at the Sheetz Center for Entrepreneurial Excellence.
Twelve students were inducted into the program—Kayla Boucher, of Auburn, Georgia; Jacob Byers, of Level Green, Pennsylvania; Kimberly Chedgy, of Pittsburgh, Pennsylvania; Tyler Dodson, of Claysburg, Pennsylvania; Luke Hallman, of Trumansburg, New York; Zane Helsley, of Somerset, Pennsylvania; Ethan Knepp, of Altoona; Alexis Koelle, of Altoona; Victoria Liebal, of Roaring Spring, Pennsylvania; Eric Maholtz, of Irwin, Pennsylvania; Sarajane Meyers, of North Huntingdon, Pennsylvania; and Thomas Wilson, of Downingtown, Pennsylvania.
Established in 2009 as part of a historic gift from Steve and Nancy Sheetz, the program instills leadership skills with an entrepreneurial spirit, enabling students to be both life-long learners and community leaders. While many of the students in the program are business students, the program is open to students of any major.
Program founder Steve Sheetz remarked, "Last month, I had the opportunity to sit down with each of the inductees and talk with them one-on-one. I could see their eyes light up as they talked about their hopes and dreams." He added, "I'm sure they saw my eyes light up as well. The students are an inspiration to me."
The program instills a sense of servant leadership through community service and challenges students to undertake a rigorous and stimulating academic experience. The program provides students with an experiential education through study abroad experiences, internships, and professional development opportunities.
In addition to maintaining certain academic standards, students are required to complete a minimum of 80 hours of community service, and a credit-bearing internship or creative project. As part of the mentorship component, Sheetz Fellows are paired with successful business executives and entrepreneurs who offer guidance and experiences to the students.
This year, Caleb Bowser, an alumnus of the Sheetz Fellows Program, made a gift to create the Sheetz Fellows Alumni Endowment. The endowment provides funds for student travel opportunities and the program's marketing initiatives. Inspired by his own experiences in the program and the philanthropy of Steve and Nancy, Bowser decided to launch this endowment with the hopes that other Sheetz Fellows alumni would join in pledging their support.
"It is with great pleasure that I congratulate each of the 12 newly inducted Sheetz Fellows for pursuing this extraordinary opportunity," said Chancellor and Dean Lori J. Bechtel-Wherry. "Steve and Nancy's continued philanthropic support of our college demonstrates an uncommon devotion to our students and community, and our college has undoubtedly been enriched, and the prospects of our region enhanced, because Steve and Nancy care so deeply."