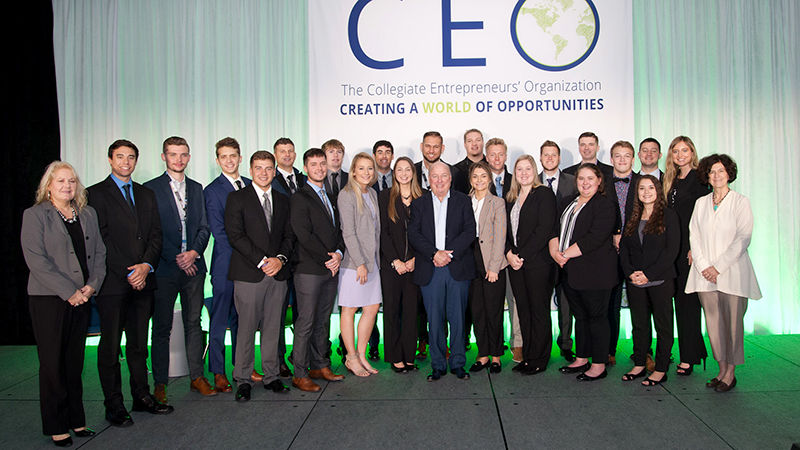 ALTOONA, Pa. — Twenty-two Sheetz Fellows from Penn State Altoona attended the 2019 National Collegiate Entrepreneurs' Organization (CEO) Conference in Tampa, Florida, Oct. 31-Nov. 2, 2019. The conference brought more than 1,000 students, faculty and young entrepreneurs together to network and listen to presentations from seasoned entrepreneurs, subject-matter experts, motivational speakers, and fellow students who seek to be transformative entrepreneurs of tomorrow.
One of the keynote speakers at this year's conference was Steve Sheetz, Chairman of Sheetz Family Council, who offered the keynote speech, "The Thrills & Challenges of Growing from 1 Store to 600!" Other keynote speakers included Jules Pieri, founder and CEO of The Grommet; Kyle Taylor, founder and CEO of the Penny Hoarder; Thad Tarkington, co-founder and CEO of Second Nature (formerly FilterEasy); Tony DiBenedetto, founder and former CEO of Tri-Bridge; and Jonathan Messinger, former CEO of EY Management Consulting (Southeast Asia).
The conference also offered an additional 50 subject-matter experts on a variety of business-related topics.
In addition to the conference, the Sheetz Fellows toured the Raymond James Stadium to learn about the inner workings of running and managing a facility that hosts concerts, sporting and cultural events, and can seat up to 74,000 guests.
The Sheetz Fellows Program at Penn State Altoona prepares students to be leaders, instills a sense of servant leadership through community service, challenges students to undertake a rigorous and stimulating academic experience, offers students mentoring opportunities with successful entrepreneurs and community leaders, provides students with an experiential education through study abroad and internships or research initiatives, and encourages a sense of esprit de corps by participation in seminars, workshops and professional development experiences.