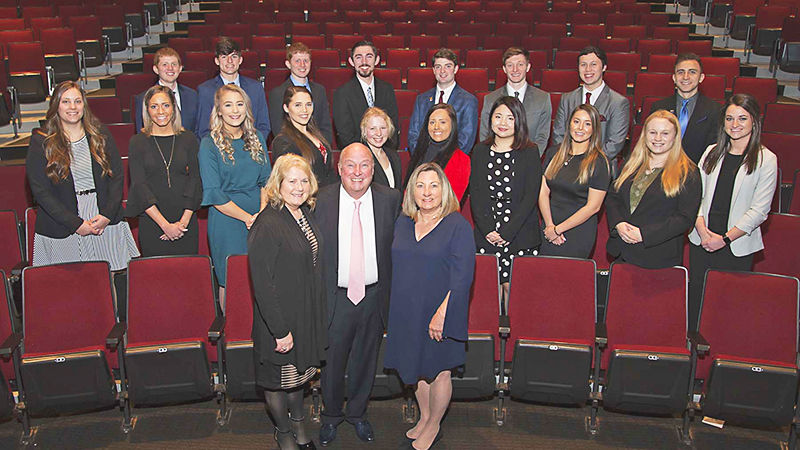 ALTOONA, Pa. – The eighth class of Sheetz Fellows was inducted during a formal ceremony on February 24 in the Misciagna Family Center for Performing Arts. A competitive academic program, the Sheetz Fellows Program offers unique opportunities that ignite and inspire the entrepreneurial mindset of students at Penn State Altoona by fostering critical thinking, ingenuity, leadership, and problem-solving skills.
Eighteen students were inducted into the program: Victoria Acker, of Cresson, PA; Emily Bryan, of Waynesboro, PA; Makala Doyle, of Bellwood, PA; Tanner Flock, of Harrison City, PA; Travis Flock, of Harrison City, PA; Amber Friday, of Tyrone, PA; Min Lo Hsieh, of Taichung, Taiwan; Madison Kreider, of Martinsburg, PA; Conner Lazorka, of Bedford, PA; Brayley Lewis, of Roaring Spring, PA; Zachary Meyer, of Penn Trafford, PA; James Owen Patane, of Media, PA; Lucia Perez, of Bolivia; Dillon Perino, of Ashville, PA; Blayz Shartzer, of McClure, PA; Taylor Stoudnour, of Frankstown, PA; Nicholas Swetkowski, of Plymouth Meeting, PA; Adrianna Zernick, of Harrisburg, PA.
"People sometimes ask what Nan and I get out of this program," Steve Sheetz stated during his program remarks. "I tell them that we love interacting with the students, and we love watching them grow. We sometimes get attached, and it's tough to watch them graduate and move on, but our job is to help prepare them for their future success. We get a lot of satisfaction in knowing that every graduating Sheetz Fellow either has a job in their chosen field or has gone on the graduate school within six months of graduation."
Other remarks during the program were given by Donna Bon, director of the Sheetz Fellows Program, Gregory Bayles, president of the Sheetz Fellows Program, and Dr. Lori Bechtel-Wherry, chancellor and dean at Penn State Altoona.
The Sheetz Fellows Program was established in 2009 as part of an historic gift to Penn State Altoona by Steve and Nancy Sheetz and has proven to be a visionary initiative that prepares students for professional, educational, personal, and social success.
Sheetz Fellows receive a $10,000 scholarship during their senior year that includes $3,000 toward travel abroad and $1,500 for a CEO conference in addition to other numerous leadership and travel opportunities.
All Sheetz Fellows are required to maintain at least a 3.25 GPA in their major in addition to completing a concentration in entrepreneurship or an entrepreneurship minor, a study abroad experience, a credit-bearing internship or research initiative, and an ethics course.
Students graduating Penn State Altoona as a Sheetz Fellow receive a medallion and special recognition at commencement.