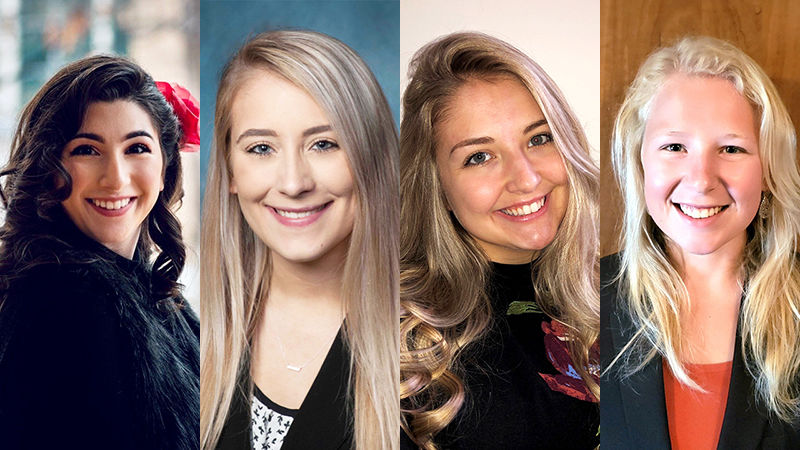 ALTOONA, Pa. — Penn State Altoona has announced the spring 2020 commencement student marshals. Student marshals are chosen to represent their academic division based on outstanding academic achievement.
At Penn State Altoona, student marshals are given the opportunity to carry their academic division's banner during the commencement procession. In response to the coronavirus pandemic, orders from the state government and recommendations from global public health organizations, Penn State will hold its spring 2020 commencement ceremony via livestream on May 9. The virtual ceremony will recognize all Penn State undergraduate and graduate students.
As such, our marshals have provided video messages to their families, faculty, and fellow graduates.
Spring 2020 Student Marshals
Brandis Nicole Ajay
Bachelor of Arts, Integrative Arts — Student Marshal for the Division of Arts and Humanities
"Something that I quickly learned after coming to Penn State Altoona is that anything is possible when you're surrounded by the right people. I started college without any significant experience as a singer, and now I will be leaving with a solid resume," said Ajay. "I would not have been able to achieve any of this without the support of my friends, family, and the amazing faculty at Penn State Altoona — especially my voice teacher, Dr. Bonnie Cutsforth-Huber. Dr. Cutsforth-Huber, or 'Doc' as I call her, is the reason I am pursuing a career in music. She taught me that I can accomplish anything if I put my mind to it. Without her, I would have likely given up a long time ago.
"When I reflect on these past few years, it feels as if my first semester was five minutes ago. Now, I'm about to become a Penn State alumna. That being said, I learned to cherish each and every moment because as soon as they're over, they'll only exist in your memory. As much as I'd love to go back to those memorable times, I realize that it's time to move on and start the next chapter of my life. I used to be afraid of making that transition, but now I'm looking forward to it. I feel more than ready to enter the 'real world,' and I have my families both at home and at Penn State Altoona to thank for that."
Emily Jean Bryan
Bachelor of Science, Business Administration — Student Marshal for the Division of Business, Engineering, and Information Sciences and Technology
"Being a first-generation college student, the thought of beginning college was both intimidating and exciting to me. When I found Penn State Altoona, I knew I had found my second home," said Bryan. "Originally, I came here to play volleyball, but after a very short time, I knew there was so much more that the Penn State community had to offer. Throughout my short four years here, I have made friends who will last a lifetime and earned an education that is going to propel me far into my future career. The one-on-one time spent with my professors here has shown me that this is a campus where you are truly more than just a number. My experience as a college athlete taught me that life can be both extremely hard and rewarding. The team truly became my second family. Without them, I would not be where I am today. And my journey through the Sheetz Fellows program has reiterated that with hard work and dedication anything is possible.
"I have learned how important being an active member of your community is and just how truly inspiring one act of kindness can be to someone. Graduating today, I am proud. I am proud not only of myself but my fellow classmates. Together we have spent countless hours studying, shedding stressed tears, laughing until our stomachs hurt, supporting each other, and standing side by side as we become Penn State grads. Today is the day all of our hard work pays off and the world is truly at the tips of our fingers. It's only up from here! We are … Penn State Grads!"
Stephanie Kathryn Davis
Bachelor of Science, Elementary and Early Childhood Education — Student Marshal for the Division of Education, Human Development, and Social Sciences
"Four years ago, I would never have pictured my college career leading me here. I feel so honored to be named the Division of Education, Human Development, and Social Sciences Student Marshal for the graduating class of spring 2020," said Davis. "Penn State Altoona has provided me with more opportunities than I could have ever imagined possible. I could not be more thrilled with my decision to study Elementary and Early Childhood Education here at Penn State Altoona. During these four short years, I have been able to grow and truly find myself as well as my passion for teaching. I am so excited to see what the future holds.
"To my professors and the rest of the education program at Penn State Altoona, thank you for creating such a nurturing, welcoming, and positive learning environment for myself and my peers. To my mentor teacher, thank you for shaping me into the teacher I have become and forever will be. Student teaching has truly been an impactful and life-changing experience for me. To my mom and dad, I would not be here today without your constant love and support. I can never thank you enough for everything you do, I love you forever.
"And to the Penn State Altoona graduating class of spring 2020, you're going to do big things. Good luck with all of your future endeavors. Now and forever, We Are Penn State!"
Taylor Stoudnour
Bachelor of Science, Biology — Student Marshal for the Division of Mathematics and Natural Sciences
"To all my fellow seniors: This is not the ending we expected. The work, sweat, and tears we have all experienced to get here were real. It might feel like that is being taken away from us, but that is just not true," said Stoudnour. "In times of crisis, we must seek opportunity. We change our perspective to see the light in the dark. Adversity is what makes us. It is what has made us over the past four years. The difficult times make us grow stronger. It is in these times that we have learned who we are and what we are really made of. The 2020 pandemic is just another mountain to climb. We will conquer. We will find strength for the future. 
"These past four years have been full of discovery, adventure, and teamwork. Penn State Altoona, its incredible professors, and our fellow students have had a tremendous impact on our progression, both personally and professionally. All of these amazing people form a team that collaborates and pushes each other to improve. To our professors who have helped us learn so much about the world around us and ourselves — thank you for taking the time out of class and caring about your students. Your abundance of energy, humor, and thoughtfulness have made the past four years so enjoyable. The friendships, connections, and memories made during this time will be cherished. Thank you to all of the family and friends for your unconditional support of this incredibly strong group of students! I'm am truly honored to be chosen as Student Marshal for the Penn State Altoona Division of Mathematics and Natural Sciences."