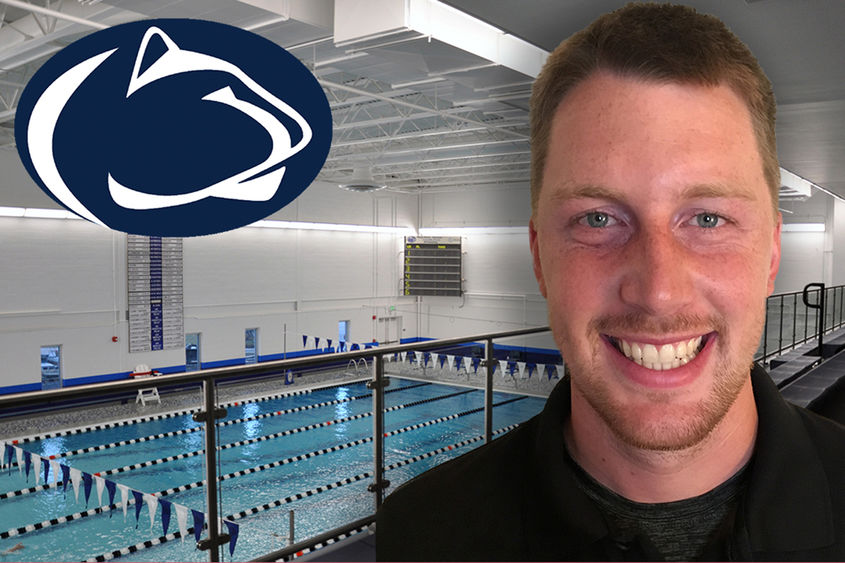 ALTOONA, Pa. – Penn State Altoona Athletics has announced the hiring of Bradley Brooks as the next head coach of its men's and women's swimming program.
Brooks becomes the fifth head coach in the NCAA Division III era of Penn State Altoona's men's and women's swimming program. In addition to his coaching duties, Brooks will serve as the Assistant Director of Recreation and Facilities for the Athletics department.
"I am happy to announce Bradley Brooks as our new head swim coach. Brad's experience and success are rooted in Division III," said Penn State Altoona Director of Athletics Brent Baird. "Brad also has an exceptional understanding of competing at the highest level in the classroom and in the pool. I look forward to watching his development of our program."
Brooks' resume is highlighted by a standout collegiate swimming career at Division III McDaniel College, as well as coaching experience at both the club and college levels.
"I'm excited and honored to take over the program at Penn State Altoona. It is a privilege to become part of an athletics program that is on the rise and values the success of its athletes in both the classroom and the pool," said Brooks. "I'm looking forward to working with the student-athletes to facilitate an exceptional academic and athletic experience while building the competitiveness of our program in the Allegheny Mountain Collegiate Conference."
In his collegiate swimming career at McDaniel that ranged from 2012-16, Brooks was a highly decorated star and two-year captain for the Green Terror men's team. Specializing in the freestyle and individual medley swims, Brooks was a four-time NCAA Division III All-American and claimed 10 Centennial Conference individual championships.
Brooks' career as a student-athlete at McDaniel was also littered with high profile academic honors. In 2016, he was an NCAA Elite 90 Academic Recognition Award recipient for having the highest cumulative grade-point average among all of the participants at that season's Division III men's swimming championships. Brooks was also a three-time NCAA Academic All-American and three-time Capital One Academic All-America Division III At-Large third team selection. He was the Centennial Conference's 2015-16 Scholar-Athlete of the Year, and he graduated as the valedictorian of McDaniel's class of 2016.
Brooks' coaching experience consists of stints with several club programs, as well as time spent as an assistant at his alma mater of McDaniel. From parts of 2011-18, he spent time as a head coach for the Persimmon Creek Swim Club (Newark, Del.), the Green Terror Aquatic Club (Westminster, Md.), Cardinal and Gold Aquatics (Towson, Md.), and the Westminster Stingrays Swim Club (Westminster, Md.). From June 2016 through July 2017, Brooks served as an assistant coach for McDaniel's men's and women's swim teams. There, he handled duties such as the development and implementation of workouts and the recruiting of prospective student-athletes from the Mid-Atlantic region.
The Penn State Altoona men's and women's swimming program is a member of the NCAA Division III and competes in the Allegheny Mountain Collegiate Conference. Established as an NCAA varsity sport in 1998, the campus' swimming program is entering its 21st season in 2018-19.