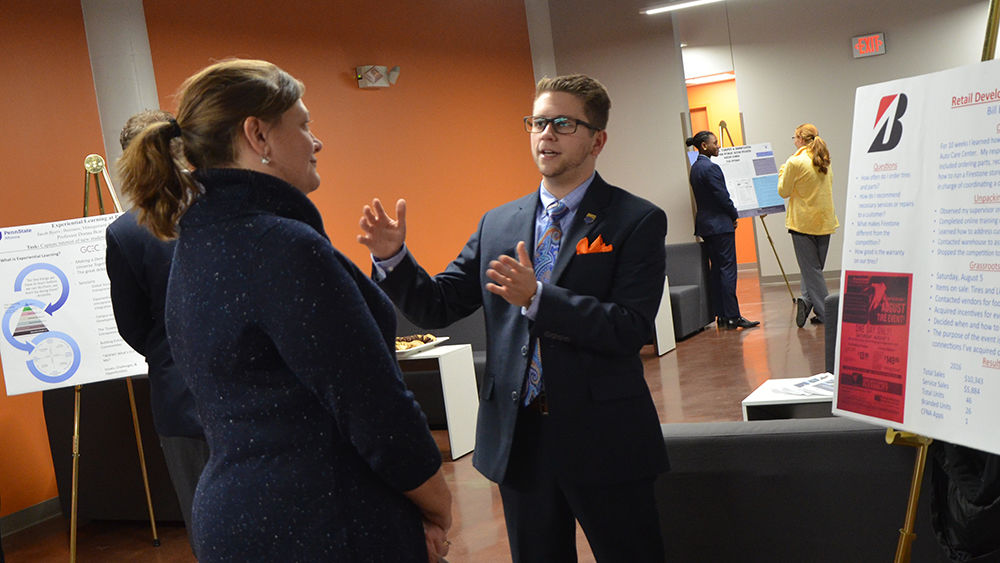 Penn State Altoona held its 2017 fall Business, Engineering, and Information Sciences and Technology Student Showcase event Friday, December 8, 2017, in which students from various disciplines showcased their work through presentations to the college and local business community.
Students from the electro-mechanical engineering technology program presented and demonstrated their senior capstone projects, while those studying business presented on their internship and research opportunities. Students in the security and risk analysis program presented on their internships and course projects.
The first phase of the Pechter Business Plan Competition also took place. Out of six teams of competitors, four were selected to move on to the next phase: Aaron Wagner, Cristina Ortiz, and Scott Glen with Genesis; Nick Swetkowski, Donovan O'Hearn, and Seth Mason with Uconnect; Hunter Lewis and Sam Evans with Prospect, and Kayla Boucher with Organic Bubble. The competition, established by Penn State Altoona benefactor Shirley Pechter, consists of a four-phase process for students to take ideas from concept through a feasibility study/market analysis to a full business plan. Local business leaders judged the competition, basing their evaluations on the feasibility of the proposed businesses, the business overviews, and presentations. The students moving on in the competition will work on their plans in the business incubator throughout the spring semester at the Sheetz Center for Entrepreneurial Excellence, creating detailed descriptions of their business concepts, potential market, and likely competitors. During the spring 2018 Student Showcase, first, second, and third place winners will be selected and receive a monetary award.
The Student Showcase is presented by the Division of Business, Engineering, and Information Sciences and Technology, the Altoona Blair County Development Corporation, and the Blair County Chamber of Commerce. Check out photos and read about Project Blue Horizon, the first EMET capstone project at Penn State Altoona to be sponsored by Lockheed Martin.