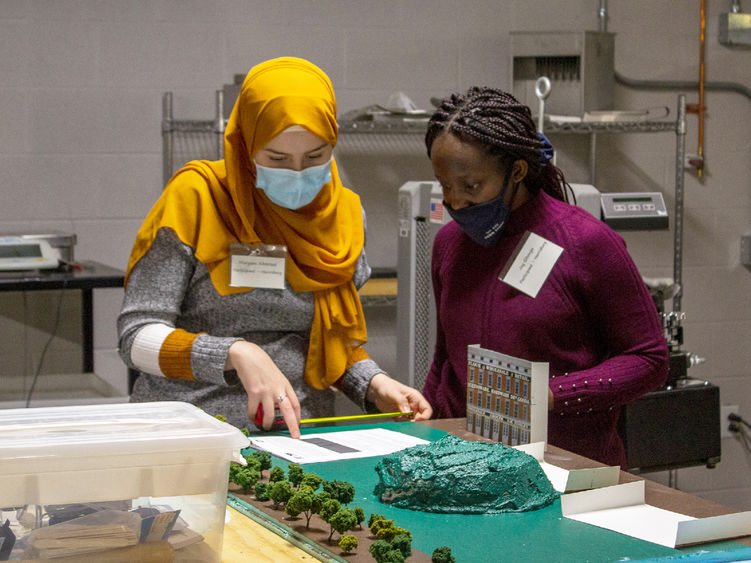 ALTOONA, Pa. — The final round of the Women in Engineering Design Competition took place in person at Penn State Altoona's downtown campus on Nov. 13-14. This year's theme was "Railroad Yard and Terminals."
Ten first- and second-year students from six Penn State campuses participated in the program, hosted by Penn State Altoona's Rail Transportation Engineering (RTE) program.
The competition had three rounds. The first was an online quiz that included questions about all aspects of engineering and its impact on society, economics and politics. Winners of the quiz moved on to the second round, the research design portion. Those winners then advanced to the final round, tasked with solving a hands-on railway yard design and operations problem. Five teams presented to and fielded questions from a judge's panel that included faculty from Penn State Altoona and railroad industry representatives.
This competition exposes and broadens women engineering students' perspectives and interests in engineering and challenges critical engineering skills. Prizes included a total of $8,000 in scholarship money. Norfolk Southern and Penn State sponsored the competition.
Ruth Brown, Norfolk Southern chief engineer, bridges and structures; and Danielle Behe, the RTE Advisory Board member, offered the keynote on the two days of the event. Six faculty from different Penn State campuses, two industry engineers, and three senior RTE students assisted with the event.
Winning teams are:
First place: Maryam Abdelaal and Joy Gitonga from Penn State Harrisburg $1,500 each
Second place: Gauri Patil and Nicole Sollenberger from University Park and Penn State World Campus, respectively, $1,000 each
Third place: Angela Bunk and Sabiha Kermalli from Penn State Altoona and Penn State Lehigh Valley, respectively, $750 each