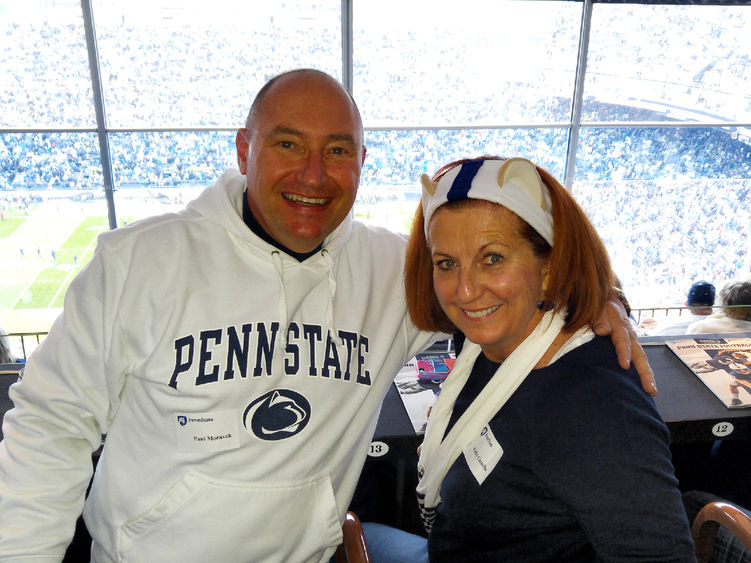 ALTOONA, Pa. — Paul Moravek, a 1977 Penn State alumnus, and Kathy Costello, of Old Bridge, New Jersey, have made a $250,000 estate commitment to support scholarships for Penn State Altoona's electro-mechanical engineering technology and environmental studies programs. The gift secured an additional $10,000 for students through the recently concluded Legacy Challenge Matching Program, which incentivized donors to create scholarships through planned gifts.
The gift will be split into two separate scholarships: "The Moravek-Costello Endowment for Engineering Excellence at Penn State Altoona," benefiting students studying engineering, and "The Moravek-Costello Endowment for Saving the Planet at Penn State Altoona," for students in environmental studies.
The $10,000 matching funds from the University will be awarded as "The Moravek-Costello Excellence Scholarship for Engineering and Saving the Planet" and will be distributed two years to engineering students and two years to environmental studies students.
"Penn State Altoona is where I started, really the jumping-off point of my career," said Moravek. "Kathy and I view the college as a place where we can really make a difference for students in need of financial support. This is a fantastic opportunity for us, and we are excited to be able to do this as a legacy gift, but see it put into action today."
A native of Warren, Pennsylvania, Moravek earned an associate degree in electrical engineering from Penn State Altoona in 1977. After graduation, he worked for Bethlehem Steel in Johnstown, Pennsylvania. In 1983, he graduated from the University of Pittsburgh at Johnstown with a bachelor's degree in electrical engineering technology. He went on to work for General Electric in Charlottesville, Virginia. With a desire to move from engineering to marketing, he eventually earned an MBA from the University of North Carolina at Chapel Hill in 1986. He worked for AT&T in several capacities, including directing the installation of one of the first high-speed internet networks across Western Europe. Moravek said, "Working across cultures and meeting needs was as rewarding as solving the technological challenge." He is now winding down a career in real estate. In 2007, he married Kathy Costello, originally from Hamilton Township, New Jersey.
Costello earned an associate degree in allied health from Mercer County Community College followed by a bachelor's degree in health science from Northeastern University while attending Forsyth School for Dental Hygiene, now affiliated with the Massachusetts College of Pharmacy. Costello was a practicing dental hygienist for 20 years prior to returning to school to earn her master's degree in special education. She is currently employed in West Windsor, New Jersey, as a high school special education teacher teaching environmental science, chemistry, forensic science and physics.
Both Moravek and Costello feel strongly about assisting students in need of financial support.
"Neither Kathy nor I have children, so this is our way of giving back and paying it forward," said Moravek. "There are so many bright and capable young people out there who just need financial backing to achieve what they're capable of."
"Paul and Kathy are loyal donors," said Lori J. Bechtel-Wherry, chancellor and dean at Penn State Altoona. "Their legacy gift supporting Penn State Altoona students reflects their passion for our students who are majoring in engineering and environmental studies. Their steadfast and generous support for our students and college is inspiring. Scholarship support often makes the difference in a student's ability to remain in college. I am grateful for Paul and Kathy's beneficence and their investment in our students' success."
With the record-breaking success of "A Greater Penn State for 21st Century Excellence," which raised $2.2 billion from 2016 to 2022, philanthropy is helping to sustain the University's tradition of education, research and service to communities across the commonwealth and around the globe. Scholarships enable our institution to open doors and welcome students from every background, support for transformative experiences allows our students and faculty to fulfill their vast potential for leadership, and gifts toward discovery and excellence help us to serve and impact the world we share. To learn more about the impact of giving and the continuing need for support, visit raise.psu.edu.
For information on all giving at Penn State Altoona, contact Director of Development Mary Ann Amato at 814-949-5154 or [email protected].