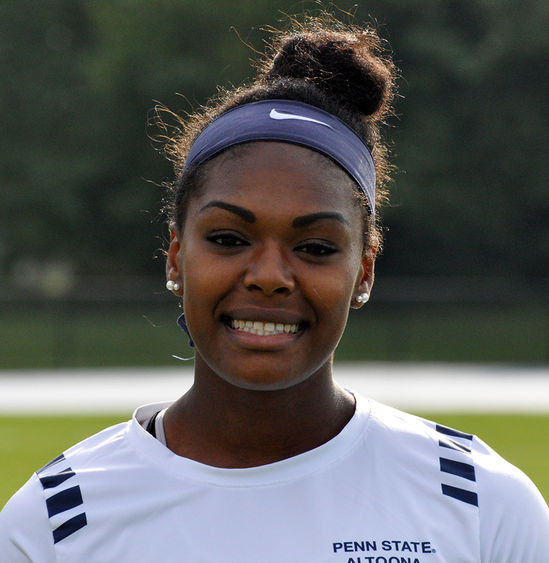 ORCHARD PARK, N.Y. - Penn State Altoona women's soccer senior forward Shoshana Mahoney (Sweet Valley, PA/Lake-Lehman) was announced as a first team All-Conference selection on Tuesday morning, when the Allegheny Mountain Collegiate Conference released its annual postseason awards.
Mahoney set personal career-highs in goals, points, and shots during her senior season with Penn State Altoona women's soccer. She led the Lady Lions in 2017 in points, goals, shots, shots on goal, and game-winning goals.
Mahoney was one of four players on her team to start all 17 games this fall. In the AMCC statistics, she ranked second in the conference in shots on goal (43), third in goals scored (16), points (34), and total shots attempted (83), and fourth in game-winning goals (3). The senior also recorded two assists.
This is the third time in Mahoney's four-year Penn State Altoona soccer career that she has been voted to the All-AMCC squad, and it is her first time as a first team All-Conference pick. In 2015 as a sophomore, she earned third team All-Conference recognition. In her junior campaign of 2016, she was selected to the second team of the All-AMCC squad.
Mahoney finishes her collegiate career ranked at or near the top of many Penn State Altoona women's soccer all-time statistical categories. In Lady Lions history, Mahoney is first in total shots attempted (246) and shots on goal (139), second in goals scored (36), game-winning goals (10), penalty kicks made (2), shots per game (3.67), and shots on goal per game (2.07), third in points (77) and goals per game (0.54), and fifth in points per game (1.15). Additionally, she is seventh all-time in minutes played (4,423), ninth in games started (54), and tied for 10th in games played (67).
Penn State Altoona women's soccer finished the 2017 season with a 5-12 overall record and a 3-6 mark in the AMCC. The team was eighth in the conference's regular season standings.