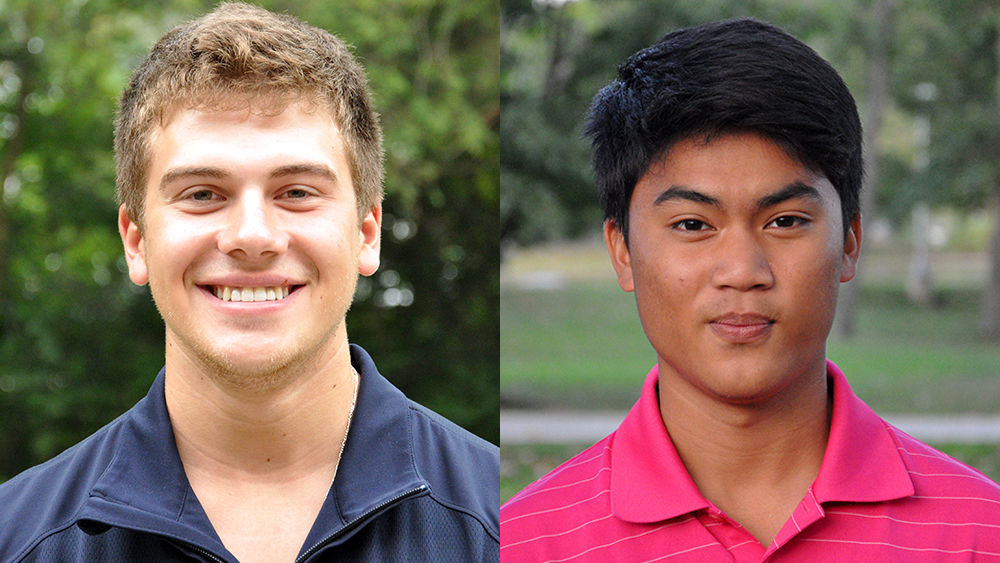 ORCHARD PARK, N.Y. - A pair of Penn State Altoona men's golfers were selected for Allegheny Mountain Collegiate Conference postseason recognition, as the league announced its All-Conference Team for golf on Friday morning.
Voted first team All-AMCC was freshman Luke Hoffnagle (Spring Grove, PA/Spring Grove), and selected third team All-Conference was sophomore Pongthong Thongyai (Patum Thani, Thailand/New Mexico Military Institute).
"No doubt, Luke and Pete deserve this recognition as All-Conference performers. Our success was a total team effort, but we could count on them to be a part of our team score every outing," said Penn State Altoona head golf coach Tom Koehle. "For Luke to earn first team All-Conference as a freshman is outstanding. We look forward to using this recognition as a spring board to future success."
Hoffnagle competed in all 11 rounds for the Lions in his first year of college golf, averaging a team-best 77.45 per round to rank as the seventh-lowest score in the AMCC. The freshman's lowest score of the season came during day one of the Allegheny College Invitational on September 10, when he shot 73 to lead his team and tie for third place out of 99 individuals on the day. In the AMCC Championships on October 8-9, Hoffnagle shot 74 during day one and 78 in day two to place eighth out of 45 golfers.
Thongyai golfed all 11 rounds for Penn State Altoona this fall, averaging 79.91 per round to rank as the second-lowest average on the team and the 13th-lowest in the conference. The sophomore's lowest score of the season came during day two of the AMCC Championships on October 9, when he fired a 73. In the two days of the conference championships, Thongyai combined for a score of 156 to tie for 13th place individually. He also repeated his second-best score of the fall in back-to-back events, finishing with 74 in the Penn State Altoona Invitational on September 16 to tie for fifth place out of 84 golfers and carding a 74 in the Mount Aloysius College Invitational on September 17 to tie for fourth place out of 90.
Penn State Altoona men's golf placed third in the AMCC Championships this season, shooting 312 in the first day and 311 in the second day to combine for 623. The Lions ranked third in the conference with a team average score of 317.0 per event, and the squad's low score was 307.