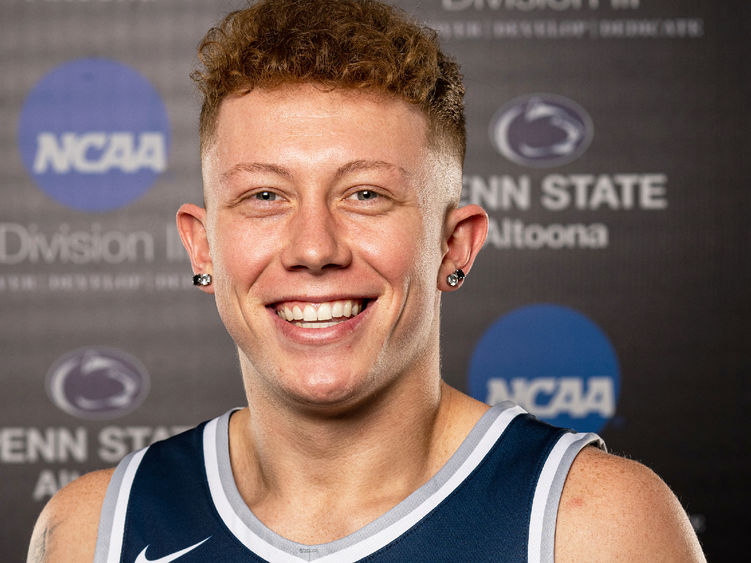 NORTH BOSTON, N.Y. — Penn State Altoona fourth-year guard/forward Andruw Harman (Chesapeake, Virginia/Great Bridge) was named the Allegheny Mountain Collegiate Conference's Player of the Week in men's basketball on Dec. 6.
Harman averaged a double-double for the Lions during a 2-0 week of AMCC play that included wins over defending conference champion La Roche and a road victory at Medaille, helping Penn State Altoona to its best-ever start in program history (7-1) and a 3-0 beginning to AMCC play.
In Wednesday night's convincing 88-72 home win over La Roche, Harman scored a game-high 19 points to go along with a team-leading 13 rebounds for his first double-double of the season, and he also contributed three assists, two blocks, and one steal. In Saturday's big 95-69 win at Medaille, which was Penn State Altoona's first over the Mavericks in Buffalo since 2005, the fourth-year finished with eight points, eight rebounds, three blocks, and one steal.
On the week, Harman averaged 13.5 points per game while shooting 50.0% from the field and 63.6% from the free-throw line, 10.5 rebounds per game, 2.5 blocks per game, 1.5 assists per game, and 1.0 steal per game. This is the senior's first career AMCC Player of the Week award.
In the AMCC this season to date, Harman ranks first in blocks (15), second in blocks per game (1.9), fourth in rebounds (55), seventh in field goal percentage (53.0), and eighth in rebounds per game (6.9).
Penn State Altoona men's basketball is 7-1 overall, including 3-0 in the AMCC. The Lions continue their conference schedule on Wednesday, Dec. 8, traveling to nearby AMCC rival Mount Aloysius College for a 7:30 p.m. game.