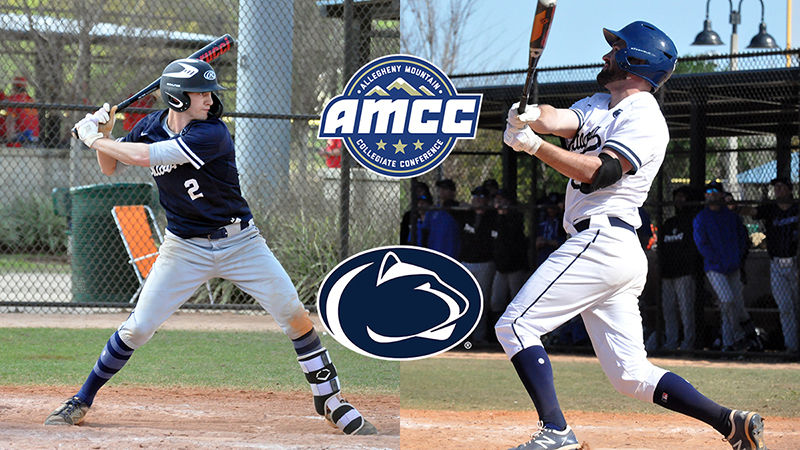 NORTH BOSTON, N.Y. — Penn State Altoona senior shortstop Hunter Breon (Boiling Springs, Pennsylvania/Boiling Springs) was voted the Allegheny Mountain Collegiate Conference's co-Preseason Player of the Year. The Lions baseball team is ranked No. 3 in the conference's 2021 preseason coaches' poll released March 3.
Breon, who returns for his senior season after a COVID-abbreviated 2020 campaign, shares the 2021 AMCC Preseason Player of the Year recognition with Penn State Behrend senior infielder Josh Wagner.
In his team's last full season, 2019, Breon started 44 of the Lions' 45 games and finished second in the AMCC in stolen bases (19), sixth in hits (54) and sacrifice hits (6), eighth in runs scored (42) and walks (25), 13th in runs batted in (35) and sacrifice flies (3), 14th in total bases (72), 17th in batting average (.344), 18th in home runs (3), 20th in doubles (9), 23rd in on-base percentage (.430), and 28th in slugging percentage (.459). He also ranked second among all AMCC fielders in assists (114) and was 15th in double plays turned (14). In eight games last season, Breon collected four hits, four walks, two runs scored, one double, one RBI, and one stolen base.
Meanwhile, the Penn State Altoona baseball team was ranked No. 3 in the 2021 edition of the annual preseason coaches' poll. La Roche University, which has won the past six AMCC championship titles, was picked to finish in first place. Penn State Behrend took the No. 2 spot.
In 2019, the Lions compiled a 28-17 overall record, including going 12-6 in the AMCC. The team reached the conference championship game that spring, in which it suffered a loss to La Roche. Penn State Altoona went 1-8 in last year's shortened schedule.
Entering his fifth season at the helm of the program, head coach RJ Barnard will manage a roster that consists of a combination of some familiar names with plenty of first-year players.
Named in the poll as "Players to Watch" for the Lions this season were Breon and senior first baseman Catcher Cumming (Altoona, Pennsylvania/Altoona).
In 2019, Cumming was a third team All-AMCC selection while also earning conference Player of the Week and D3baseball.com Team of the Week honors. In the AMCC that spring, he ranked fifth in RBI (40), sixth in home runs (6), 10th in slugging percentage (.547), 12th in triples (2), 13th in runs scored (35), total bases (76), and walks (22), 14th in doubles (10), 19th in hit by pitch (5), 20th in hits (44), 27th in stolen bases (7), 28th in batting average (.317), and 33rd in on-base percentage (.415). He also compiled the fourth-highest total of putouts (273) and the 18th-best fielding percentage (.986) in the AMCC that season. Last spring, Cumming started all nine games for the Lions and finished with six hits, two runs scored, one double, and one RBI.
Penn State Altoona baseball is currently scheduled to open its 2021 schedule on the road Thursday, March 11, traveling to play nonconference opponent Marywood University in a doubleheader beginning at noon.