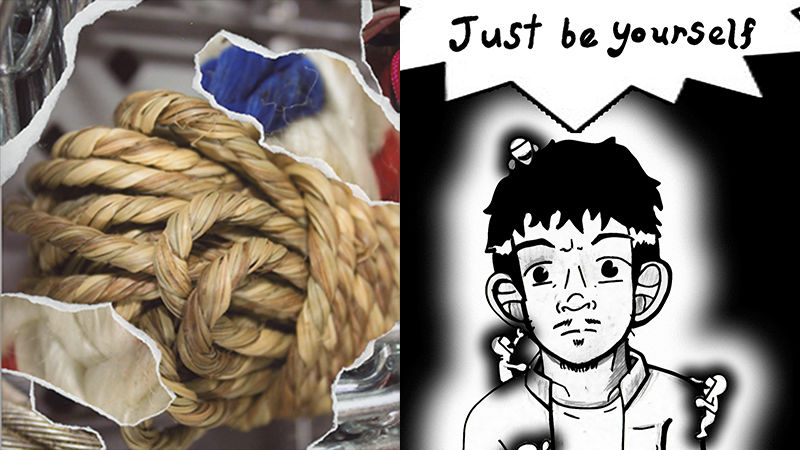 ALTOONA, Pa. — Penn State Altoona Visual Art Studies program seniors Andrea Regalbuto and Gary Weyandt are showcasing their respective exhibitions "Flap/Flutter" and "MEDIAted" online via websites, Instagram, and virtual exhibits.
About Andrea Regalbuto's "Flap/Flutter"
It has been said that something as small as the flap of a butterfly's wings can ultimately cause a typhoon halfway across the world. Regalbuto's exhibition will display the deeply personal events that helped construct who she is today. Her photography and mixed media works depict the drastic changes in her life that form her current identity, tracing back to one initial choice. In her exhibition, she is using the idea of the Butterfly Effect to reflect on patterns of events, levels of growth, and faith.
"Through creating this body of work, I have been able to connect events in my life that stemmed from a decision," she said.
View Regalbuto's work on her website, Instagram, and virtual exhibit.
About Gary Weyandt's "MEDIAted"
"Sometimes, if you look long enough in the mirror your reflection can become alien," said Weyandt. "Perhaps this is who they saw that day, or who they chose to see."
"MEDIAted" deconstructs a conflict Weyandt experienced on Facebook and portrays how his personal relationships were affected. The exhibition will feature both the 2D imagery and 3D sculpture that are used to communicate his reaction to the events. For example, the piece "He changed so much," includes life-sized standees that illustrate the way Weyandt has changed over the years, speaking to how childhood friends are sometimes reluctant to accept the people we become as adults.
View Weyandt's work on his website, Instagram, and virtual exhibit.