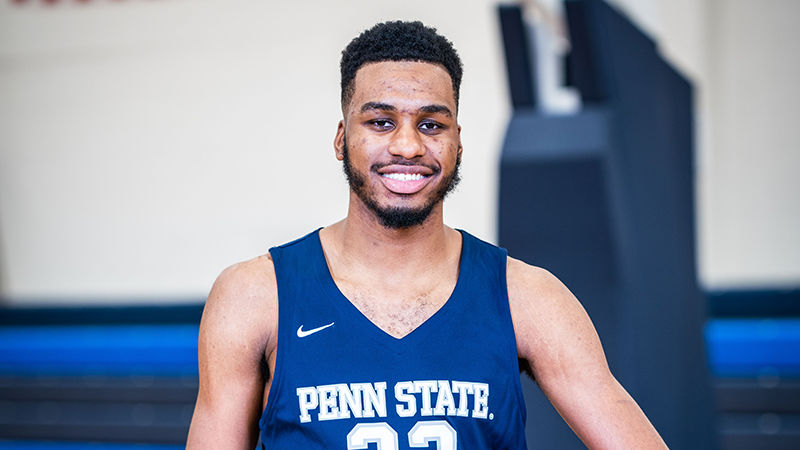 NORTH BOSTON, N.Y. – Penn State Altoona men's basketball's junior center Cameron Gardner-Nicholson (Philadelphia, PA/Boys' Latin Charter) was selected the Allegheny Mountain Collegiate Conference's Defensive Player of the Year while also taking third team All-Conference honors, as the league released its postseason awards on Februrary 26.
Gardner-Nicholson was a force in the paint for the Lions all season long. His presence as a defender altered opponents' game plans, and he was also one of the most efficient scorers in the AMCC.
Gardner-Nicholson led the AMCC in blocks (71) and blocks per game (3.0), and he also ranked third in the conference in defensive rebounds (157), total rebounds (235), and rebounds per game. Among all NCAA Division III players, Gardner-Nicholson was eighth in blocks per game, 10th in total blocks, and 50th in rebounds per game.
Gardner-Nicholson enjoyed a banner day in the Lions' game against Franciscan University on January 3. That night, the junior center set Penn State Altoona men's basketball program single game records for rebounds (22) and blocks (8). Gardner-Nicholson also set a new team single season record for defensive rebounds per game, securing 6.5 per contest this year.
Offensively, Gardner-Nicholson ranked first in the AMCC in field goal percentage, making 64.2% of his shots from the field to set a new Penn State Altoona single season record in that category. He also ranked fifth in the AMCC in offensive rebounds (78), 20th in field goals made (106), and 24th in points (255) and points per game (10.6). In the NCAA Division III, Gardner-Nicholson was 56th overall in offensive rebounds per game (3.3).
During the season, Gardner-Nicholson recorded a team-high eight double-doubles. He was also named the AMCC Player of the Week on January 7.
This is Gardner-Nicholson's first career appearance on an AMCC All-Conference team.
Penn State Altoona men's basketball went 8-17 this season, including a 6-12 record in the AMCC that placed the team eighth in the conference's regular season standings.