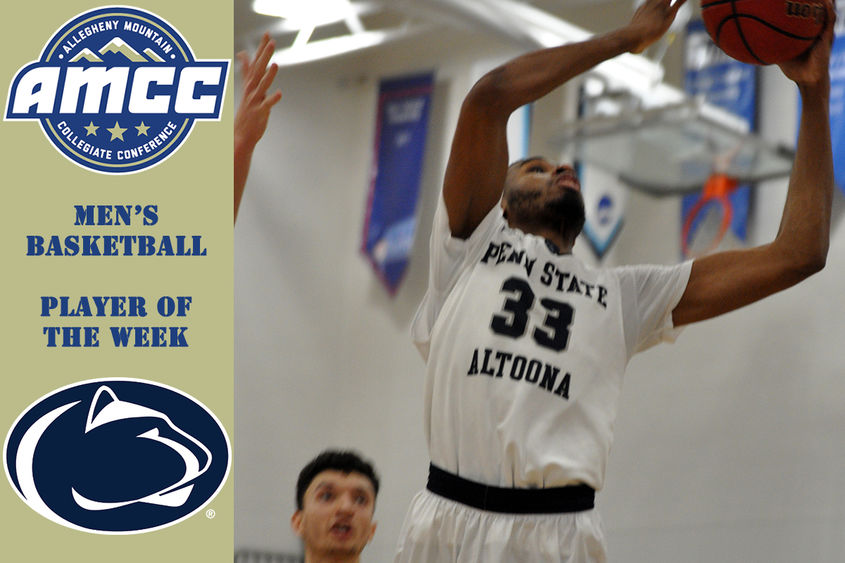 NORTH BOSTON, N.Y. – Penn State Altoona men's basketball's junior center Cameron Gardner-Nicholson (Philadelphia, PA/Boys' Latin Charter) was named the Allegheny Mountain Collegiate Conference's Player of the Week on Monday, January 7, 2019.
Gardner-Nicholson put together two strong performances for the Lions last week, including having an historic game on Thursday.
In Thursday night's home loss to AMCC opponent Franciscan University, Gardner-Nicholson set two new Penn State Altoona men's basketball program single season records by grabbing 22 rebounds and blocking eight shots. He also scored 18 points in the game to record his team-best fifth double-double of the season, and he chipped in two assists.
In Saturday afternoon's victory at conference foe D'Youville, Gardner-Nicholson finished with 11 points six rebounds, three blocks, two steals, and one assist.
For the week, Gardner-Nicholson averaged 14.5 points per game, 14.0 rebounds per game, 5.5 blocks per game, 1.5 assists per game, and 1.0 steals per game. The junior currently leads the AMCC in blocks (43 blocks, 3.3 blocks per game) while ranking second in the conference in field goal percentage (60.9%) and rebounds per game (10.2).
This is Gardner-Nicholson's first career AMCC Player of the Week award.
Penn State Altoona men's basketball is 3-10 overall, including 2-5 in the AMCC. The Lions return home this Wednesday, January 9 to host conference opponent Pitt-Greensburg at 8:00 p.m.