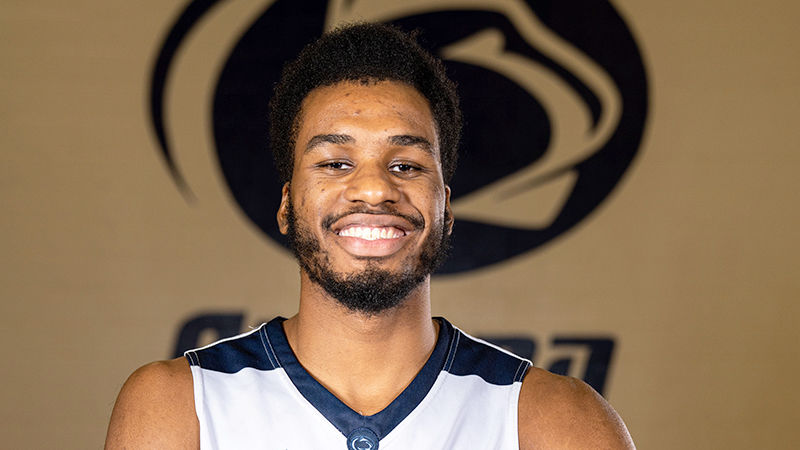 NORTH BOSTON, N.Y. — Penn State Altoona senior center Cameron Gardner-Nicholson (Philadelphia, Pennsylvania/Boys' Latin Charter) was named the Allegheny Mountain Collegiate Conference's Men's Basketball Player of the Week on Monday, Dec. 16.
Gardner-Nicholson was dominant in the paint for the Lions last week, picking up his second and third double-doubles of the season to power his team to a pair of AMCC wins at home.
In Wednesday night's 70-64 victory over AMCC rival Mount Aloysius College, Gardner-Nicholson finished with 15 points, 12 rebounds, four blocks, and two steals. In Saturday afternoon's 112-91 win over D'Youville College, Gardner-Nicholson put up a season-high 24 points while also totaling 13 rebounds and two blocks.
On the week, Gardner-Nicholson averaged 19.5 points per game – shooting an outstanding 81.8 percent (18-for-22) from the field – 12.5 rebounds per game, 3.0 blocks per game, and 1.0 steal per game.
In seven games this season, the senior center ranks first in the AMCC in field goal percentage (71.4 percent), second in blocks (16) and blocks per game (2.3), and sixth in rebounds per game (8.0). Among all NCAA Division III men's basketball players this season, Gardner-Nicholson is currently sixth in field goal percentage, and he has been the blocks leader for a Lions team that now ranks fourth nationally in blocks per game (6.6).
This is Gardner-Nicholson's first AMCC Player of the Week award this season, and it is the second of his career.
Penn State Altoona men's basketball is 5-2, including a 3-2 record in the AMCC. The Lions' next games will be on Friday, Dec. 27 and Saturday, Dec. 28, when the team will compete in the Shenandoah Shootout tournament at Shenandoah University in Winchester, Virginia.