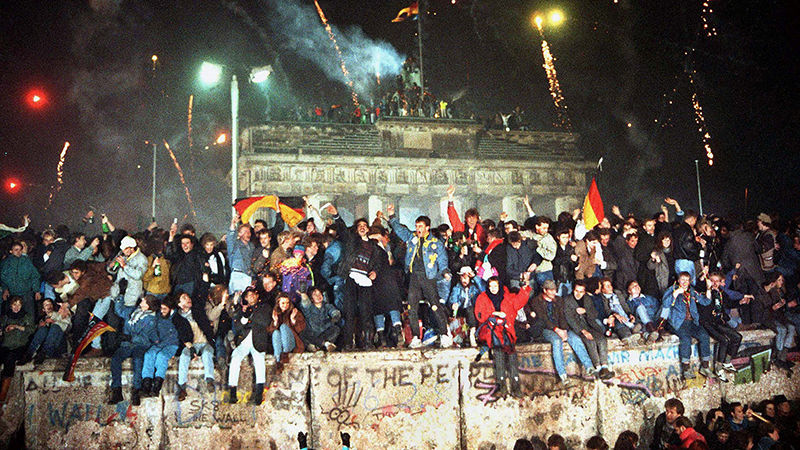 ALTOONA, PA.—A faculty commemoration committee composed of John Eicher, Jutta Lorensen, and Jared Frederick is looking for Altoona community members who were in Germany during the fall of the Berlin Wall, 30 years ago this November.
The committee plans to bring the nonprofit oral history organization StoryCorps to campus September 2-4, 2019. StoryCorps is a non-profit organization which collects, preserves, and shares American stories from people of all backgrounds and beliefs for the future.
Representatives will talk with individuals about their memories of the event, their experiences of witnessing the divided German society, and its impact on their lives.
Frederick co-organized a twentieth-anniversary event with other Penn State Altoona history and German students to a positive response. "History is a continuation of thoughts and ideas as much as it is a reflection on past events," states Frederick. "The themes of walls and division remain as relevant as they were in 2009 or 1989." Lorensen adds, "What we learned through the campus events in 2009 is that there are many people in our community who have an immediate connection to the fall of the Berlin Wall, either because they served overseas in the U.S. Armed Forces or traveled to the divided Germany for work, education, or leisure. In our 2009 commemorative book, people wrote about what it feels to have family on both sides of the Iron Curtain, to protest the very construction of the wall in 1961, but also to hear one's father, visiting from Germany, exclaim, 'It's not possible,' when realizing that a wall would divide Berlin. In short, we learned that Altoona is a globally connected place with a lot of great stories that shouldn't be lost."
The theme of this year's commemorative event is "Divided Societies." "Although we see divisions in our own political system, sometimes it is useful to reflect on societies where those divisions are much greater and be thankful that we can still talk to each other about our differences," says Eicher. "We often don't know how good we have it until it is gone. A StoryCorps conversation project this anniversary year provides the perfect opportunity to think about the consequences of political divisions."
If you would like to participate in this project or know someone who would, please contact Eicher, Lorensen, and Frederick by email at [email protected] or by phone at 814-949-5001. Eicher can also be reached directly at [email protected].