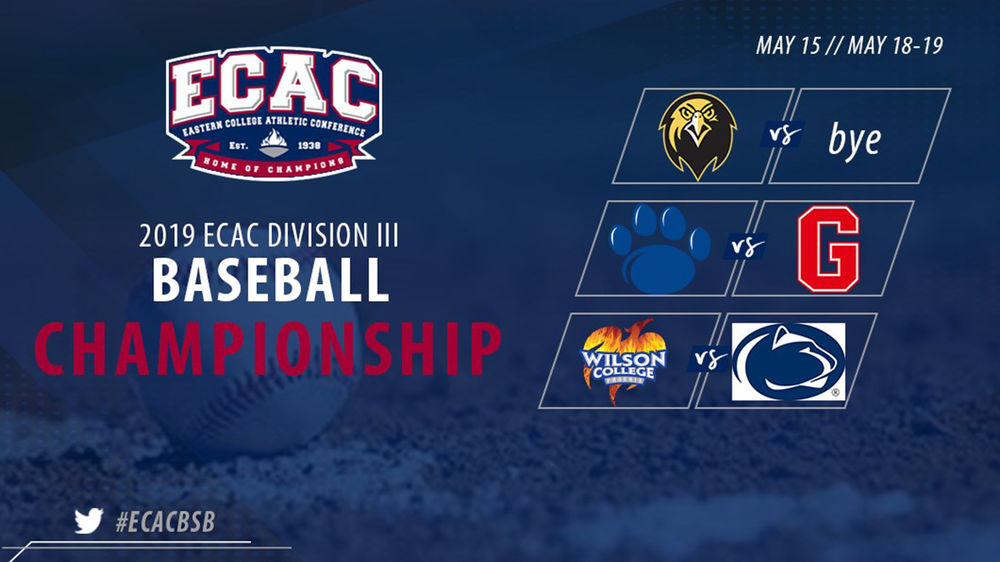 DANBURY, Conn. – After suffering a loss in Saturday's Allegheny Mountain Collegiate Conference championship game, the Penn State Altoona baseball team was given an opportunity to extend its season on Monday, when the Lions picked up a bid to compete in the Eastern College Athletic Conference's Division III Championship Tournament.
In a field of five teams, Penn State Altoona was tabbed as the tournament's fifth seed. The Lions will play No. 4 seed Wilson College in Chambersburg, Pa. this Wednesday, May 15 in a first round game. First pitch for that game has been set for 3:00 p.m.
The winner of Wednesday's game will advance to play No. 1 seed Pfeiffer University on Saturday, May 18 at 12:00 p.m. in the semifinals, hosted at No. 2 seed Penn State Behrend. That game's winner moves on to the tournament championship game on Sunday, May 19 at 1:00 p.m., also hosted at Behrend.
Penn State Altoona baseball holds a 28-16 overall record, including going 12-6 in the AMCC. After a third place finish in the conference's regular season standings, the Lions made a deep run into the AMCC Tournament, placing as the AMCC runners-up after a loss to La Roche University in Saturday's conference title game.
This marks the Lions' third-ever berth into an ECAC postseason tournament. The program's previous two appearances came in back-to-back seasons, when the Lions were named to the ECAC Division III South Region Tournament in 2009 and 2010. The ECAC has since shifted away from regional tournaments to a single, national format.
Penn State Altoona came out victorious in its 2009 ECAC playoff appearance, as the Lions posted a 5-4 win over Neumann College and a 22-14 win over Wesley College to claim the ECAC Division III South Region championship. That season's team included current Lions head coach RJ Barnard.
In its other ECAC tournament appearance, Penn State Altoona suffered a tight 7-6 loss to Bethany College in 2010.
The Lions' quest for another ECAC title starts with a matchup at Wilson on Wednesday. The Phoenix are 20-12 overall, including a 9-6 record in the Colonial States Athletic Conference. Wilson finished in third place in the CSAC's regular season standings, and it was eliminated from the CSAC playoffs after a 6-4 loss to Cairn University last Wednesday.
This Wednesday's game between Penn State Altoona and Wilson will be the teams' second meeting this season. The Lions fell 11-5 at Wilson on April 18, as the Phoenix jumped out to a 4-1 lead after the game's first four innings, then cemented their victory with a six-run eighth inning.
ECAC Division III Baseball Championship Tournament schedule:
Wednesday, May 15
Game 1: No. 5 Penn State Altoona at No. 4 Wilson College – 3:00 p.m.
Saturday, May 18 (at Penn State Behrend)
Game 2: No. 1 Pfeiffer University vs. Game 1 Winner – 12:00 p.m.
Game 3: No. 3 Grove City College at No. 2 Penn State Behrend – 4:00 p.m.
Sunday, May 19 (at Penn State Behrend)
Game 4: Game 2 Winner vs. Game 3 Winner – 1:00 p.m.