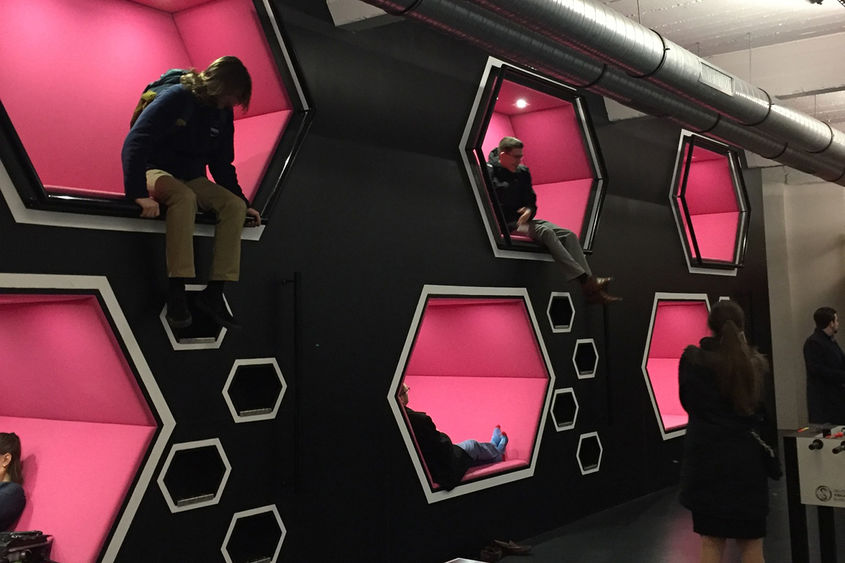 The junior and senior classes of Penn State Altoona's Sheetz Fellows traveled to two European countries over spring break to explore global markets.
The founding benefactors of the Sheetz Fellows Program, Steve and Nancy Sheetz, believe students need to understand those global markets in order to be effective leaders. "This is a tremendous opportunity for our Sheetz Fellows," says Donna Bon, director of the Sheetz Fellows Program. "We are teaching our students what it means to be a leader in today's world. It is imperative that they realize a leader has to have a global prospective to be successful. It takes an understanding of all cultures and people."
The 10-day trip through Germany and Amsterdam was possible through an endowment created by Steve and Nancy, who traveled with the 26 students, along with Chancellor and Dean Lori J. Bechtel-Wherry and faculty members Bon, Paul Cooney, and Richard Singer.
In Germany, the group visited the Berlin Wall, the BMW motorcycle production plant, the Innovation Factory, and took a walking food tour. While in Amsterdam, they saw the Amsterdam Stock Exchange, the Van Gough Museum, the Anne Frank House, and took a canal cruise.
"The trip absolutely blew away all of our wildest expectations," says junior Samuel Evans. "Getting to travel Europe with the program and Mr. and Mrs. Sheetz was incredibly special. We toured some amazing businesses and an incubator similar to the Altoona LaunchBox called The Factory. They work with companies from across the world such as Uber, SoundCloud, and Google. They are even currently working with a top-10 cryptocurrency. Getting to learn about international business and culture first hand was an eye opening experience and one that I am extremely thankful to have been a part of."
"Our study abroad opportunity was an unrivaled experience into the culture of two very different countries," adds Greg Bayles, a junior minoring in entrepreneurship. "While these destinations were meaningful and historic, the ability to experience this journey with such amazing people was my favorite part. Each morning brought with it an opportunity to explore and learn new things."