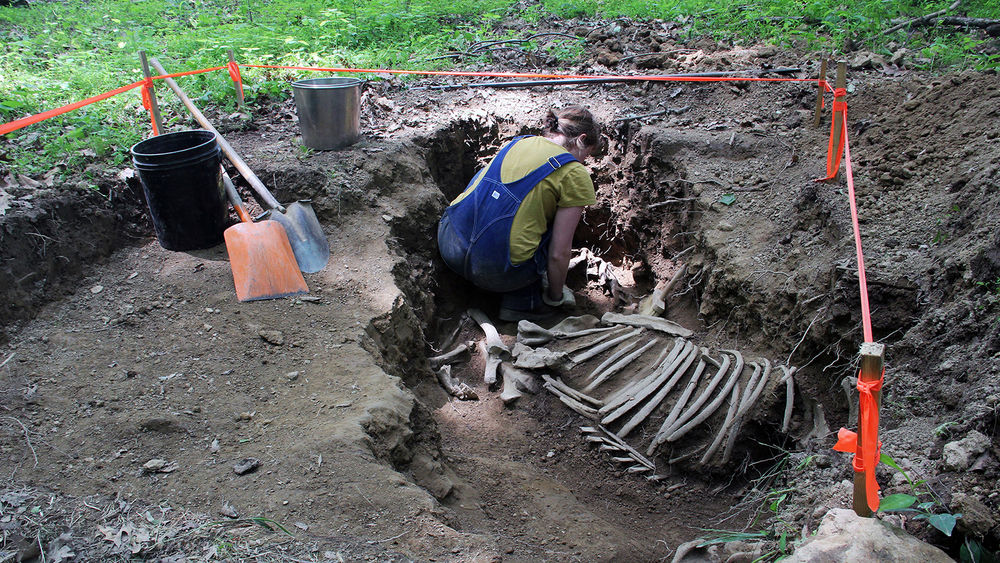 ALTOONA, Pa. — The exhibition "At Daybreak" by Ivyside Juried Art Exhibition winner Julie Ann Nagle will run Jan. 10 to March 9 in the McLanahan Gallery of the Misciagna Family Center for Performing Arts at Penn State Altoona. A reception will be held from 3 to 5 p.m. Thursday, Jan. 10, in the center's Titleman Study. The exhibition is free and open to the public.
"At Daybreak" explores the intimate relationship between ancestry, mortality, transcendent mediation through making, and the expansiveness of the universe. "Bella Dama" is a cast of the remains of Nagle's pet horse, unearthed on her families' property through an archaeological excavation she conducted. Nagle uses processes and technology from scientific fields in her artwork to meld emotional and analytic experience.
"I employ the tools of archaeology for studying the origins of our ancestors, to excavate the material traces of my own personal heritage, and interrogate my own mythology, beliefs and identity," Nagle said.
Other works explore the mysteries of physics and archaeoastronomy. "Darkness Their Was at First By Darkness Hidden" takes its title from the Rig Veda Hymn of Creation. Gravitational rings radiate from a brass sphere in the clutches of swarming nocturnal birds. A brass sphere contains a speaker and TV tuned to static, in which photons emanating from the Big Bang in cosmic microwave background radiation can still be detected. Drastic scale shifts in this body of work present humanities' small but integral place in a vast universe where we are left to ponder the possibility of sentience beyond our comprehension. Additional sculptures, paintings, photos and video create an atmosphere of deep forest contemplations of both physical matter and the magnitudes of what matters.
Nagle received her bachelor of fine arts degree at the Cooper Union School of Art and her master of fine arts in sculpture and extended media at Virginia Commonwealth University. She is an interdisciplinary artist with sculpture as her primary focus. She has participated in many residencies and has exhibited nationally in New York, Texas, Minnesota, and other states.
The gallery is open from 10 a.m. to 2 p.m. Monday through Thursday and before and during all performances. For further information, call the Misciagna Family Center for Performing Arts at 814-949-5452.