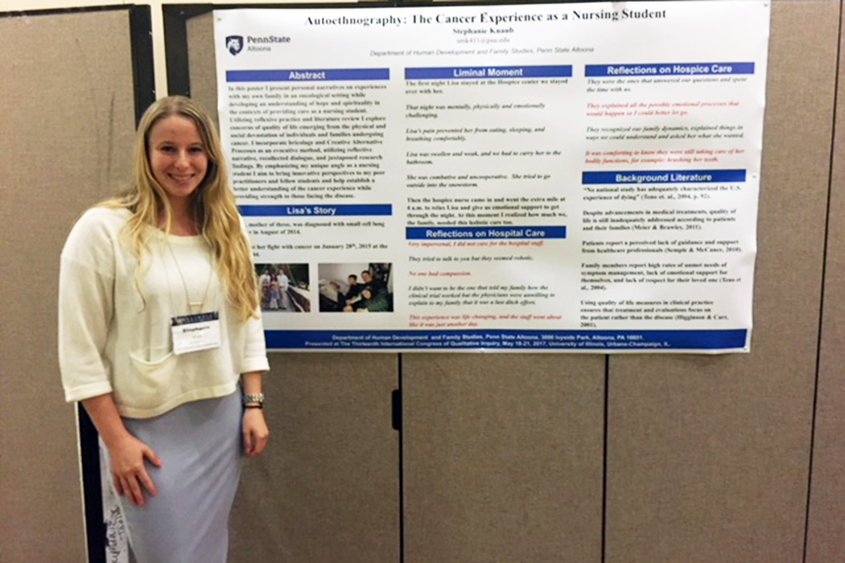 Stephanie Knaub, nursing student
Research Spotlight
I began doing research in the spring of my sophomore year with Kelly Munly, assistant professor in human development and family studies. Much of that first semester included familiarizing myself with the process of research development and terminology. From there, I began to develop my own theoretical framework within the nursing context to add on to Dr. Munly's original research. This included coming up with my own questions to go along with those of Dr. Munly's. I also did interviews and then analyzed transcripts, identifying common themes and coding those themes to contribute to the research findings. Through that, I developed an autoethnographic project related to my nursing lens. I presented a poster on that project at the 13th International Congress of Qualitative Inquiry in Illinois in May 2017.
Participating in research has given me opportunities to develop many inter-professional skills and to cultivate in-depth critical thinking and time management skills. I have been able to network with professionals at conferences, but most importantly, research has instilled confidence within myself. It has taught me how to push myself and work harder than I ever thought I could. It has allowed me to grow as a student, an intellectual, and a future nurse.
Research has definitely influenced me in my nursing studies. Because of research, I do not just look at situations in a matter-of-fact way, but rather I like to investigate options and possible solutions. After experiencing research here at Penn State Altoona, I know I want to develop research in the nursing field and apply the skills and knowledge I have learned to my future career.
I would recommend research to all students. There are numerous opportunities within Penn State Altoona among a variety of majors, or you can make one for yourself. The professors here are willing to help you design your own research tailored to your interest, needs, and time.
Comments from Dr. Kelly Munly
Stephanie has been an incredibly focused student in class, clearly spending extensive time and effort to master material and craft papers with advanced concepts and integration of research from the field. It has been wonderful to work with her in research, where she has continued to apply this level of persistence. She has demonstrated a graduate school-level process of developing her own theoretical framework, literature review, and research questions that provide a segue between my prior research and her academic interests related to nursing scholarship. When Stephanie presented and attended sessions at the 2017 International Congress of Qualitative Inquiry at the University of Illinois, she jumped in with confidence and networked with veteran researchers with ease. It's been fulfilling as a research advisor to see her take that experience as an inspiration to continue developing her own project, both in the form of an autoethnography and preparation for a grounded theory study.