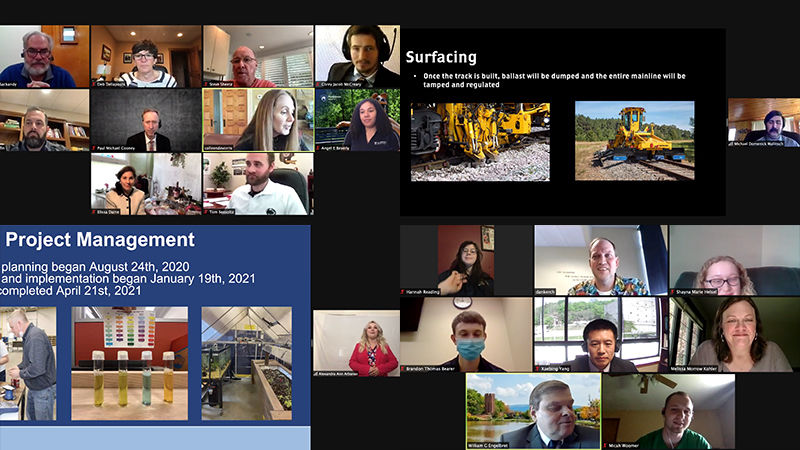 ALTOONA, Pa. — Penn State Altoona held its spring 2021 Student Showcase virtually on Friday, April 30. Students from various disciplines showcased their work through Zoom presentations to faculty, staff, students, the local community, family and friends.
Students from the Electro-Mechanical Engineering Technology and the Rail Transportation Engineering programs presented their senior capstone projects, while those studying accounting and business presented on their internship opportunities. Students in the Security and Risk Analysis program presented on their internships and capstone projects.
The final round of the Pechter Business Plan Competition also took place during the showcase. Angel Beverly and Corey McCreary took first place for The Alternative Tour concept, which redefines the thought process of in-person tours. This device is a virtual platform where advanced technology recreates a tour as if it were happening on-site. They were awarded $5,000. Second place and $3,000 went to Elissa Scarlett Daine for her SANZ' idea, which combines traditional and new dining elements with a unique brand of healthy eating, entertainment, and education.
The competition, established by Penn State Altoona benefactor Shirley Pechter, consists of a four-phase process for students to take ideas from concept through a feasibility study/market analysis to a full business plan. Local business leaders judged the competition, basing their evaluations on the feasibility of the proposed businesses, the business overviews, and presentations.
Also during the showcase, five business students were inducted into the Penn State Altoona chapter of the Sigma Beta Delta Honor Society, a business honor society. Eligibility is offered to those students in the top 20% of the undergraduate business program and who reflect the society's high standards of academic excellence. Students are Zane Baker, Brandon Bearer, Shayna Helsel, Hannah Reading and Micah Woomer.
Penn State Altoona partnered with the Blair County Chamber of Commerce and the Altoona Blair County Development Corporation for the spring 2021 Student Showcase.