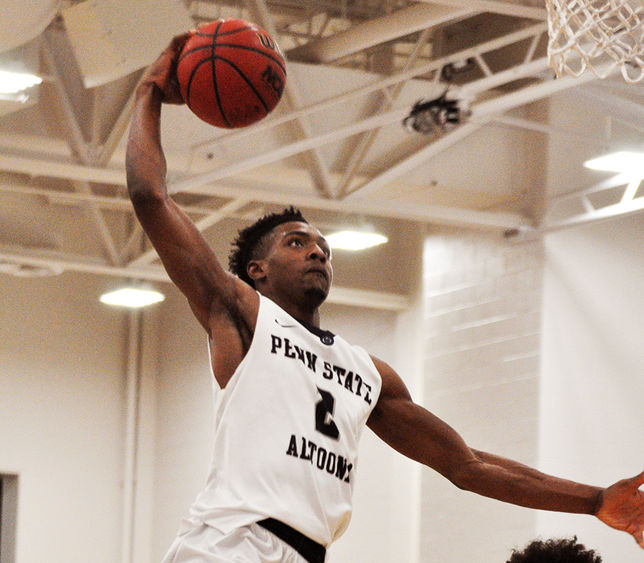 ALTOONA, Pa. – Penn State Altoona men's basketball senior guard/forward Ishimeal Nance (Muscle Shoals, AL/Muscle Shoals) racked up another prestigious postseason award on Tuesday morning, when he was announced as having been voted to the third team of the D3hoops.com All-Great Lakes Region squad.
Nance's All-Region honor comes one day after the senior picked up a second team All-Great Lakes District recognition from the National Association of Basketball Coaches. Nance becomes the third player in Penn State Altoona men's basketball history to earn All-Region honors from D3hoops.com, joining former Lions Kirk Peters (second team All-Region in 2010) and Evan Greening (All-Region Rookie of the Year in 2014).
"I'm amazed at the continued accolades being bestowed on Ish. Again, he's very deserving for everything he's done since he came to Penn State Altoona from Muscle Shoals, Alabama," said Penn State Altoona men's basketball head coach David McGreal. "It really shows how he, along with his teammates, has helped propel our program into the national spotlight. Hopefully, we as a program can continue to produce teams and players that will garner us many individual and team awards in the future."
On the heels of his outstanding 2017-18 season, Nance has proven to be one of the most decorated players in program history, in terms of the high profile postseason recognitions that he has received. In addition to earning spots on the NABC second team All-District and D3hoops.com third team All-Region teams, Nance was voted the Allegheny Mountain Collegiate Conference's 2017-18 Men's Basketball Player of the Year, took first team All-AMCC honors, and was picked to the conference's all-tournament team for being one of the top performers during the league's playoffs. Last Thursday, Nance became the first player in Lions history to be chosen to play in the Reese's Division III College All-Star Game when he was one of the top two vote-getters in a two-day fan vote.
Nance led the AMCC in scoring during the 2017-18 season, averaging 19.1 points per game for a total of 515 points scored. He was also first in the conference in free throws made (127), second in minutes per game (32.4), defensive rebounds (166), total rebounds (212), and rebounds per game (7.9), third in field goals made (176), and sixth in steals (44). Nance set four new Penn State Altoona men's basketball single season records this year, becoming the program's new record-holder for points scored (515), free throws made (127), free throws attempted (165), and defensive rebounds (166) in a single year.
In 2017-18, Nance helped lead the Penn State Altoona men's basketball team to its best season in program history, as the Lions' total of 17 wins set a new team record for the most wins in a season. Penn State Altoona posted a 17-10 overall record, including a 13-5 mark in the AMCC that tied for third in the conference. The team earned its second consecutive berth into the AMCC Tournament, and it was also selected to compete in the Eastern College Athletic Conference's Division III Championship Tournament for the second straight year.
To view the complete D3hoops.com All-Great Lakes Region men's basketball team, visit the D3hoops site.