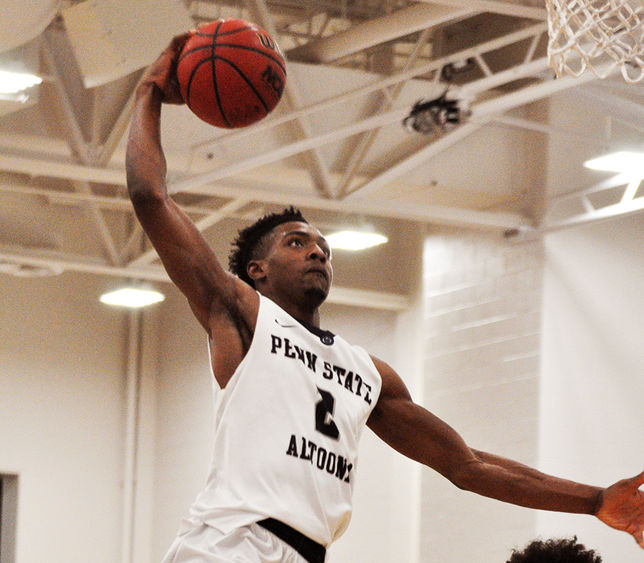 ALTOONA, Pa. – Ishimeal Nance, a senior guard/forward for the Penn State Altoona men's basketball team, was voted into the 2018 Reese's Division III College All-Star Game following a two-day fan vote. He is the first player in Penn State Altoona men's basketball history to earn a spot in the national Division III All-Star Game, which will be played on Saturday, March 17, in Salem, Virginia.
Nance received a total of 58,907 votes during the fan vote period, which opened at noon on Tuesday, March 6, and closed at noon today (March 8). His total accounted for 33 percent of the record 175,242 votes cast. Dalton Myers of York College (Pennsylvania) was the top vote-getter, collecting 60,577 votes (34 percent). Both Nance and Myers were elected to the All-Star Game, as the fan vote rewarded the top two vote-getters with All-Star status.
"I just want to thank God first, and all of my family, friends, teammates, coaching staff and people across the world for taking the time to vote for me and pushing for me," said Nance. "I want to thank everyone who voted, because without your support, I would not have this opportunity. Thank you!"
Nance and Myers will join a roster of 20 total players — 10 on each team — with the remaining 18 players to be announced after the NCAA Division III tournament semifinal round participants are determined with this weekend's games in the rounds of 16 and eight.
"I am so happy for Ish and proud of him for everything he has accomplished since stepping on campus. He, along with his teammates, has helped take our program to new heights," said David McGreal, Penn State Altoona men's basketball head coach. "After having a record-breaking season, it is good to see that we are being recognized on a national level, and Ish is the perfect vehicle for that, because without him, we wouldn't have accomplished what we did. Thank you to everyone who voted for him. Without you, this wouldn't have been possible."
Nance's selection to the national Division III All-Star Game is a highlight from what has been a season filled with accolades and accomplishments for the senior. He was voted the Allegheny Mountain Collegiate Conference's Player of the Year while also taking first team All-AMCC honors. Nance led the AMCC in scoring during the 2017-18 season, averaging 19.1 points per game for a total of 515 points scored. He also was first in the conference in free throws made (127), second in minutes per game (32.4), defensive rebounds (166), total rebounds (212), and rebounds per game (7.9); third in field goals made (176); and sixth in steals (44). Additionally, Nance was named to the AMCC's All-Tournament team for being among the top performers in the league's postseason playoff tournament.
Nance set four new Penn State Altoona men's basketball single-season records this year, becoming the program's new record-holder for points scored (515), free throws made (127), free throws attempted (165), and defensive rebounds (166) in a single year.
Nance, a native of Muscle Shoals, Alabama, and a graduate of Muscle Shoals High School, transferred to Penn State Altoona from Snead State Community College (Alabama), beginning his Lions career as a junior in 2016-17.
In 2017-18, Nance helped lead the Penn State Altoona men's basketball team to its best season in program history, as the Lions' 17 wins set a new team record for the most wins in a season. Penn State Altoona posted a 17-10 overall record, including a 13-5 mark in the AMCC that ranked fourth in the conference. The team earned its second consecutive berth into the AMCC Tournament, and it was also selected to compete in the Eastern College Athletic Conference's Division III Championship Tournament for the second straight year.
More information on the 2018 Reese's Division III College All-Star Game will be posted on D3hoops.com, as available.