EIM efforts will extend throughout October, and beyond University Park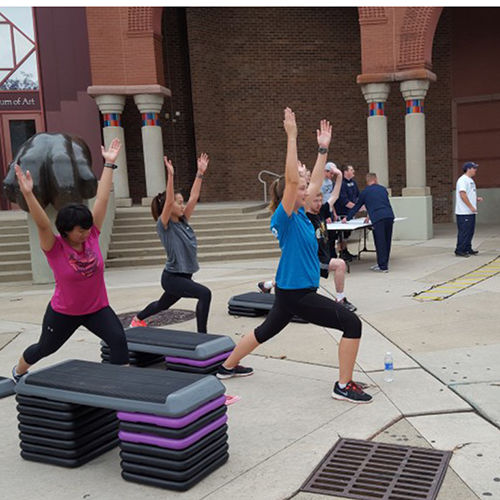 UNIVERSITY PARK, Pa. — Penn State's sixth annual Exercise is Medicine on Campus (EIMOC) Week will feature a variety of new initiatives and events, including the grand re-opening of the Center for Fitness and Wellness at its new location.
Exercise is Medicine Week at Penn State is part of a national EIMOC initiative that occurs every year, calling on universities and colleges to promote physical activity and its health benefits.
The 2017 EIM Week will kick off at noon on Monday, Oct. 9, with the Dean's Walk, a one-mile walk across campus starting at the Biobehavioral Health Building and ending at the steps of Old Main. Ann C. Crouter, Raymond E. and Erin Stuart Schultz Dean of the College of Health Human Development, will lead the walk while accompanied by college faculty and staff members, students and alumni. Others from across the University also will participate.
Throughout the week of Oct. 9 through 13, activities and information will be offered across campus, including free exercise stations, health resources and fitness challenges. Free yoga will be offered on Thursday, Oct. 12, on the HUB lawn.
The week will conclude with the grand re-opening of the Center for Fitness and Wellness (CFW) in its new location at the Intramural (IM) Building on Oct. 13. The event, beginning at 10 a.m., will be held in Room 20. Penn State Health Promotion and Wellness will be offering nutritional counseling, mental health services, meditation sessions, and other health and wellness activities. Fitness assessments will be offered by the CFW.
"The move to the IM Building will solidify the long-standing relationship we've had with University Health Services (UHS) and allow us to grow into a more seamless system of collaboration, including storing users' vital signs into the electronic medical record system," said Melisa Bopp, associate professor of kinesiology and faculty adviser of EIM at Penn State. "Additionally, this opportunity opens a door to a more comprehensive collaboration with Penn State Fitness and Campus Recreation, both of which have been valuable partners in recent years."
Nancy Williams, professor of kinesiology and physiology and head of the Department of Kinesiology, said the vision of the Department of Kinesiology is to help Penn State students be healthier when the leave Penn State than when they arrived, and this year's EIM efforts will help that vision.
"The move to the IM Building will facilitate new and exciting synergies with campus partners like UHS and Campus Recreation, and help expand our EIM footprint on campus. We also want to explore scaling-up our EIM efforts to sustained programming across the year, and across the Commonwealth at other Penn State campuses," Williams said.
Events and programs won't end when EIM Week is over. Efforts will extend throughout the month of October.
One effort is "Mobile Exercise is Medicine," beginning Oct. 16, in which kinesiology faculty and CFW interns will travel to Penn State Commonwealth campuses in Altoona, Harrisburg and Hershey to host additional EIM programs.
"This is a part of our efforts to move beyond just EIM Week, which have done very well for the past five years. We now have two more Commonwealth campuses with kinesiology programs, and we look forward to having strength and capacity at all campuses, creating a passion for promoting health and wellness for all Penn State kinesiology students," Bopp said.
Another effort, "Exercise is Medicine Everywhere," begins Oct. 23. That program's goal is to encourage alumni-run businesses across the country to spread the EIM mantra with such activities as exercise classes and health screenings. Those participating can share their efforts on social media. There will be a drawing at the end of the week for a $100 gift card toward Penn State merchandise.
"Without a doubt Penn State alumni are among the most devoted and supportive in the country, and since our program has been going on for many years, we have graduated hundreds of students who have been a part of our campaign and message," Bopp said. "This allows them to carry on with a Penn State tradition in their professional positions, spreading the message of Exercise is Medicine even further."
This year also marks the first full year of programming under Zack Papalia, supervisor of the CFW and coordinator of EIMOC, who said seeing how the program has grown is a real testament to the students, department and college.
"I was here as an undergrad when we first brought EIMOC to the Kinesiology Club. Having the opportunity now to get back involved and lead it into the future is very exciting," Papalia said. "One of my biggest goals since stepping into this position has been to expand the reach of offerings of EIMOC."
Papalia said the efforts as part of this year's EIM Week, such as bringing in more partners for EIM Week, traveling to Commonwealth campus partners during "Mobile Exercise is Medicine" Week, and incorporating alumni nationwide with "Exercise is Medicine Everywhere" Week are all initiatives Papalia and his team have worked really hard on, and he is excited to see where they lead, this year and in the future.
"For the past five years we have held great EIM weeks," Papalia said "Hopefully soon, we will have EIM initiatives and events all year. When we present at the next ACSM Annual Meeting in June, I want there to be no question that our program at Penn State is the global leader in EIMOC."
Leading up to EIM Week, Penn State will host Bradley Cardinal, professor in the College of Public Health and Human Sciences at Oregon State University, as this year's EIM speaker. His talk, titled "In Pursuit of the Cure for Sloth and the Eradication of Physical Inactivity," will be held at 3:05 p.m. Sept. 28 in Room 101 of the Agricultural Science and Industries Building.
Partners of the 2017 EIM Week include UHS, Healthy Penn State, Penn State Crossfit, Penn State Campus Recreation, Penn State Powerlifting Club, Penn State Disability Athletics, and the Penn State IFC/Panhellenic Dance Marathon.
Williams said she is looking forward to the sixth EIM Week and the new opportunities it will provide to the department, to campus partners, and to faculty, staff and students.
"We are certainly grateful for all the support the College of Health and Human Development has provided, as well as the support of other units on campus such as UHS and Campus Recreation," Williams said. "The advancement of our Center for Fitness and Wellness and Exercise is Medicine initiatives is in large part due to the outstanding efforts of faculty, staff and students. 'We Are' all in this together."
The American College of Sports Medicine and the American Medical Association launched Exercise is Medicine in 2007 to encourage primary care physicians and other health care providers to assess physical activity during office visits and discuss the health and medical benefits of exercise with their patients.