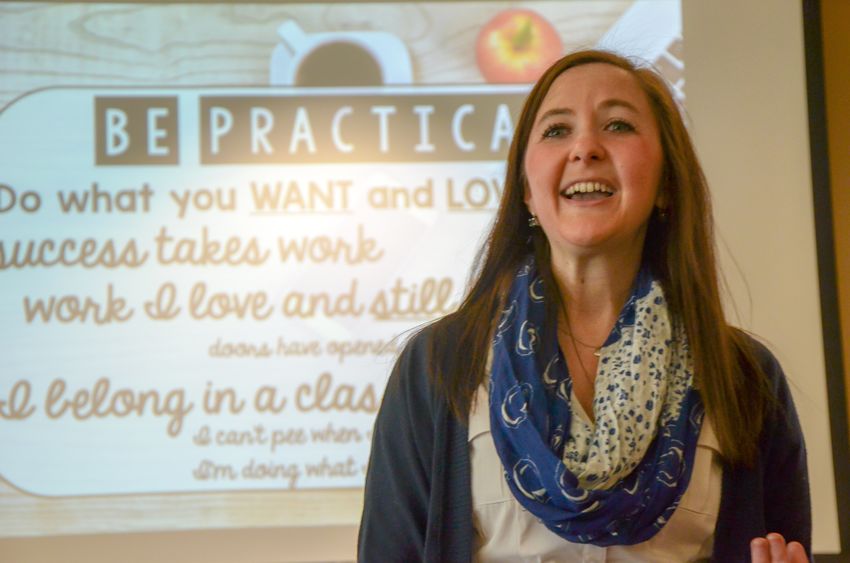 ALTOONA, Pa. — Ashley Schroeder, a 2005 Penn State Altoona graduate, was among the nine recipients of the Penn State Alumni Association's 2017 Alumni Achievement Award honored during an award ceremony March 31 at the University Park campus. The Alumni Achievement Award recognizes alumni 35 years of age and younger for their extraordinary professional accomplishments.
Schroeder, a second-grade teacher at Hinckley Elementary School in Ohio, is also an entrepreneur of an online teaching blog, Schroeder Shenanigans in 2nd. Her custom-designed classroom materials are purchased by thousands of followers on Teachers Pay Teachers, the world's largest online educational marketplace. She has grown into a "teacherpreneur," marketing and selling her digital teaching resources to more than 40,000 followers through her Teachers Pay Teachers page and social media accounts, and uses her social media presence to share teaching tips and advice with educators worldwide who share her passion for teaching.
As part of the awards program, recipients are invited by the University president to return to campus to share their expertise with students and the Penn State community. Schroeder shared a presentation with Penn State Altoona students titled "What Should I Be When I Grow Up?" Schroeder explained how she found her path to success and encouraged students to be practical, productive, present and, most importantly, passionate. "Living out my passion has provided me with the confidence that allows me to 'be me' in every single thing that I do — not just in the things that I love and am passionate about," Schroeder said.
In 2016, Schroeder made a gift to Penn State Altoona to sponsor the Penn State Altoona Education Conference, which featured renowned author Ron Clark, founder of the Ron Clark Academy — a privately funded, inner-city school serving students from across metro Atlanta. Inspired by her own experiences visiting the Ron Clark Academy, Schroeder wanted to share his message with other educators and administrators in her hometown.
Schroeder was Penn State Altoona's commencement speaker in May 2016. After graduating from Penn State Altoona, Schroeder taught first grade in Altoona before moving to Ohio in 2011. She received her master's degree in education from Saint Francis University.