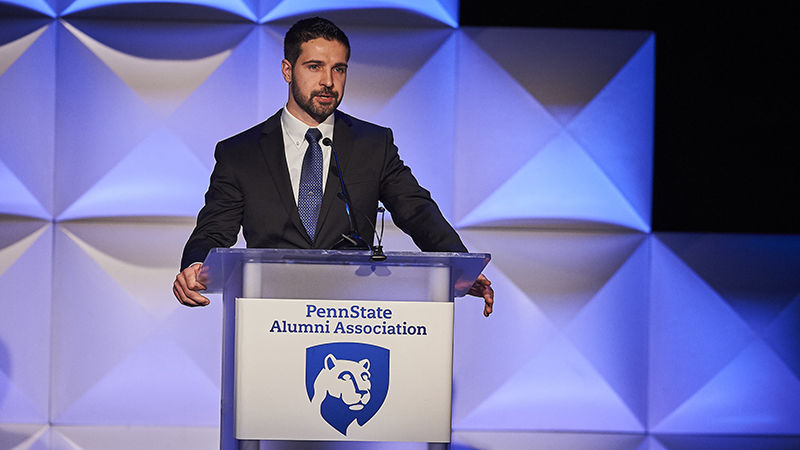 Donald J. Cella, of Pittsburgh, Pennsylvania, received the Penn State Alumni Association's Alumni Achievement Award on March 29. The award recognizes alumni 35 years of age and younger for their extraordinary professional accomplishments. A 2013 Penn State Altoona business graduate, Cella was one of 15 alumni honored by the Alumni Association.
Cella is owner of Limelight Tile & Ceramics, a custom ceramic tile manufacturer company located in the Strip District of Pittsburgh. Limelight's story began with a successful equipment auction during the fall semester of Cella's senior year. The equipment went into storage until Cella graduated and the building he purchased was renovated enough to move in. After a few months of experimenting, Limelight's first sale was to Sheetz in 2014.
In 2016, Limelight received the Small Manufacturer of the Year Award from the Pittsburgh Business Times. In the same year, Limelight became an official licensee of The Homer Laughlin China Company and designed a line of porcelain tiles that embrace the style of FIESTA dinnerware.
As a Penn State Altoona student, Cella was a member of the inaugural Sheetz Fellows class, an orientation leader, and president of the Enactus team. Since graduating, Cella has returned to Penn State Altoona to meet with current Sheetz Fellows and has hosted them in Pittsburgh for a tour of his company.
Alumni Achievement Award recipients are nominated by an academic college or campus and invited by the president of the University to return to Penn State to share their expertise with students and the University community. Honorees demonstrate to students that Penn State alumni succeed in exceptional fashion at an early age.
Cella's acceptance speech can be viewed online. For more information about the Alumni Achievement Award, visit the Alumni Association's website.