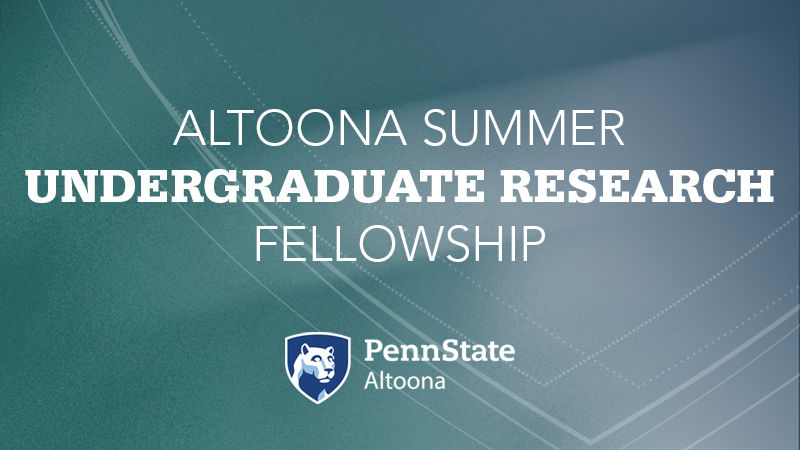 ALTOONA, Pa. — Nine students from across all four of Penn State Altoona's academic divisions participated in the first cohort of the Altoona Summer Undergraduate Research Fellowship (ASURF) program.
The program supported each student with a $3,500 stipend to engage in intensive research or creative work during summer 2021, allowing them to immerse themselves in their work with fewer distractions. Students also attended six weeks of professional development workshops on ethics, literature review, the value of research, developing research presentations, applying to graduate school, and publishing research. Further, they had the opportunity to discuss their research with faculty members, who then shared their own journeys with undergraduate research.
Through ASURF, students and their mentors produced two manuscripts in review, one still in process, and a completed visual arts project. Several other works are in progress. Students will present at the Altoona Expo and the Undergraduate Research and Creative Activities Fair held later in the academic year.
ASURF application information for the summer 2022 cohort will be available within the next few months.
ASURF 2021 cohort
Philip Chamberlin, mentored by Ivy Ahiabu, assistant teaching professor of physics
Kassie Evans, mentored by Edward Levri, professor of biology
Rae Griffin, mentored by Nathan Kruis, assistant professor of criminal justice, and Nicholas Rowland, professor of sociology
Kaleb Knowles, mentored by Sohail Anwar, professor of engineering
Yuanjun Pan, mentored by Yimin Zhu, associate professor of chemistry
Payton Perry, mentored by Nathan Kruis, assistant professor of criminal justice
Madisyn Simington, mentored by Sophie Brenneman, assistant teaching professor of visual arts
Kristen Taylor, mentored by Yimin Zhu, associate professor of chemistry
Jessica Tomasko, mentored by Juan Gil, professor of mathematics