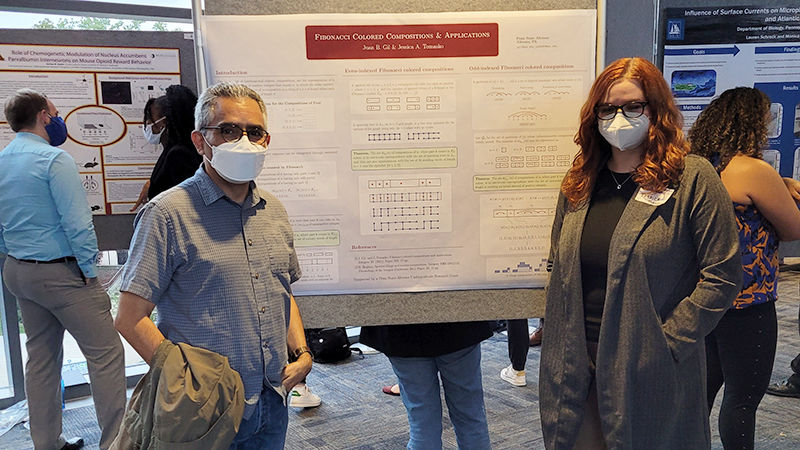 ALTOONA, Pa. — Penn State Altoona student Jessica Tomasko won first place in mathematical sciences in the Undergraduate Research Poster Exhibition hosted by Penn State's Eberly College of Science in early October.
Tomasko, a mathematics major, conducts her research with Juan Gil, professor of mathematics at Penn State Altoona. Their research focuses on combinatorial objects called compositions. Tomasko's poster explained compositions and colored compositions and discussed bijections, or maps, to other objects such as spanning trees, ternary words, and unimodal sequences using compositional interpretation.
"The research fair was a little intimidating, but it was fun," said Tomasko. "It was interesting to see other research happening across the University. I'm proud that I got first place, but I'm especially proud that I was able to share the research Dr. Gil and I do with others."
Tomasko was awarded $250 for her first-place win.
Penn State Altoona's Student Pathways to Undergraduate Research (SPUR) program took 10 of Tomasko's peers to the exhibition, where they had the opportunity to see research presentations firsthand. The group finished the event with a dinner at Juana's, a Venezuelan restaurant in downtown State College. Gil, a Venezuelan, was thrilled to share the food of his home country with the students.