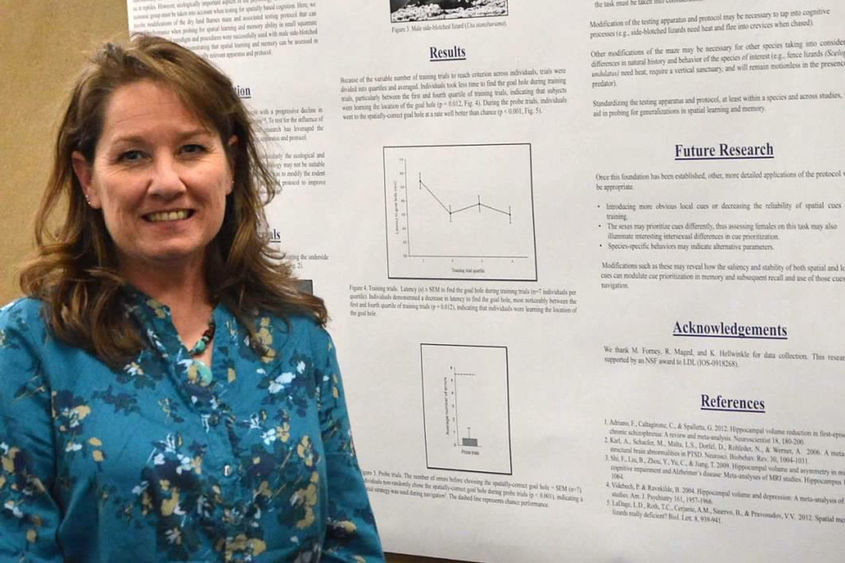 Tracie Cobb Irvin '17, biology graduate, with an environmental studies minor
Research Spotlight
I first volunteered to work in Dr. Lara LaDage's laboratory helping with general animal husbandry. In spring 2018, I began to assist in the lab. I learned several valuable techniques while working with Dr. LaDage. Under her guidance and direction, I collected and evaluated brain tissue, including its preparation, processing and staining, and visually determined the neuron counts in eight separate areas of the brain using a high-powered microscope and the Cavalier computer program, and entered data.
At the completion of my first research project, "Early glucocorticoid exposure and cortical attributes in individuals from populations that experience potentially lethal stressors," I had the opportunity to present my findings at the Animal Behavior Society Annual Conference at the University of Alaska, Anchorage.
My second research project, "Assessing Spatial Learning and Memory in Small Squamate Reptiles," was published in the Journal of Visual Experiments in January 2017. I also presented it at the 93rd Annual Pennsylvania Academy of Science meeting at King's College in Wilkes-Barre, Pennsylvania.
I entered these research projects in Penn State's Research and Creative Activities Fair, both at University Park and Penn State Altoona. I was fortunate enough to win second place in the spring of 2017 with my research concerning the small squamate reptiles. This project and my findings were also published in the Journal of Visual Experiments in January 2017.
Working in the research lab was a positive influence in my college experience. It allowed me to see science from different perspectives. I was able to bring my research, data, and projects to fruition and present them to my peers and others at several different venues. I taught other students in the lab and observed them as they built their confidence in themselves and took pride in their work. I had the best time working in the lab, and I made lifetime friends.
College is a time to find yourself and experience things that may not always be available, so I encourage other students to look into undergraduate research here at Penn State Altoona. There is so much value in doing research. Think outside of the box and be willing to take on those opportunities that are outside of your comfort zone.
Comments from Dr. Lara LaDage
Tracie is a non-traditional student who came back to education after years of experience working in private research facilities. Because of her maturity and previous experience, Tracie envisioned working as a research student as a freshman rather than a junior or senior. Right away, this indicated quite a bit of academic maturity and commitment to furthering her education outside of the classroom. During her four years in the lab, Tracie participated in most of the research projects, directly overseeing two projects of her own. As a result, she has presented her work at numerous national, regional, and local venues, with one published co-authored publication and another manuscript in review. Further, she evolved into a mentor for the other students in the lab, earning her the title of "Lab Mom". Tracie has demonstrated unequivocal dedication to her education, both in the classroom and in the lab. It was a pleasure working with Tracie and watching her really take control of her own education and research projects.