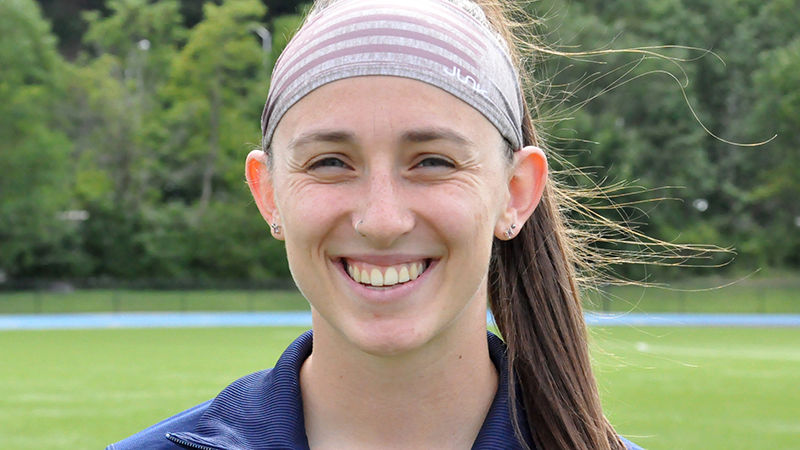 ALTOONA, Pa. — Penn State Altoona women's soccer senior Kierra Irwin (Altoona, Pennsylvania/Altoona) was announced as the recipient of the Jim R. Ellis Leadership Award.
The Ellis Award, named in remembrance of former men's basketball assistant coach Jim R. Ellis, is given by the Penn State Altoona Athletics department annually to a student-athlete who consistently demonstrates the values of leadership, caring, civility, honesty, integrity, and responsibility.
"Kierra is a competitor and a team contributor on and off the field of play. While she is one who excels in both the discipline of her chosen sport and chosen scholastic path, she is humble, hardworking, and dedicated," said Penn State Altoona women's soccer head coach Pam Snyder Etters. "As a result of Kierra's relentless work ethic, positive attitude, and quality leadership skills, she continues to set the bar high for her teammates while always being respected by them."
Irwin was a four-year starter with the women's soccer program at Penn State Altoona, serving as a team captain and finishing her collegiate career ranked statistically among the top players in team history. In the Lions' all-time records, she ranks second in assists (22), assists per game (0.44), and shots per game (3.78), tied for second in shot attempts (189), third in shots on goal (90), fourth in shots on goal per game (1.8), eighth in minutes played (4,301), and tenth in points (48) and points per game (0.96). Irwin was a two-time All-Allegheny Mountain Collegiate Conference selection, taking first team honors in both the 2018 and 2019 seasons.
Irwin represented her peers as a student-athlete at Penn State Altoona by serving on the Student-Athlete Advisory Committee. Through her involvement with SAAC, Irwin helped organize many volunteering initiatives aimed at benefiting the campus and the Altoona area community.
Irwin also achieved success in the classroom, where she maintained a strong grade point average throughout her education and earned multiple spots on AMCC Academic All-Conference teams, including as a Peak Performer for having a cumulative GPA of 3.5 or higher.
Prior to the start of her college career at Penn State Altoona, Irwin graduated from Altoona Area High School and then opted to take on the responsibility of serving her country. She headed to basic training, and, after a summer of grueling physical and mental demands, trained to become an Army E-4 Specialist Combat Medic.
"Kierra's experience as a woman in the Army reserves has proven invaluable to her time as a student-athlete," Etters stated. "She must manage her time to near perfection in order to make it all work, and she uses that time wisely, so as to maximize its potential for personal growth."
Irwin graduated from Penn State Altoona this spring with a degree in kinesiology and a minor in biology, and she plans to continue her academic career in graduate school at the University of Alabama at Birmingham.