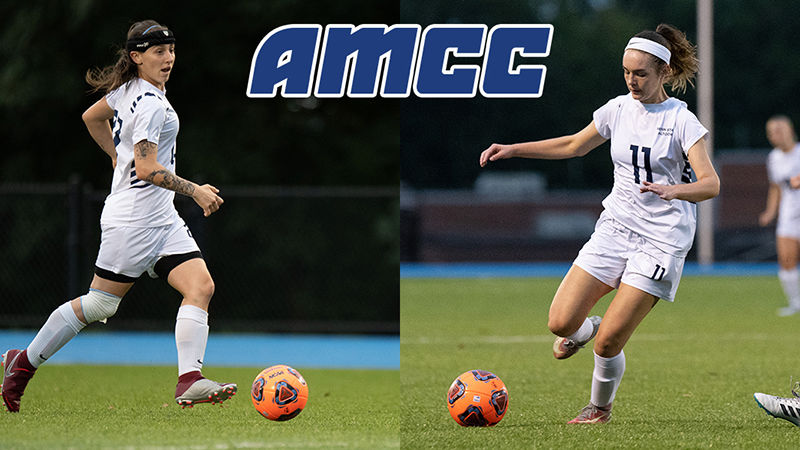 NORTH BOSTON, NY—The Allegheny Mountain Collegiate Conference released its annual Women's Soccer Preseason Coaches' Poll on Monday, August 26, 2019, and the Penn State Altoona women soccer team was voted into fourth place.
Defending champion Penn State Behrend was voted into first place in the poll, and Mount Aloysius College came in second. D'Youville College was predicted to finish in third.
Penn State Altoona women's soccer is coming off of a 2018 campaign that saw the Lady Lions go 9-8-2 overall, including a 4-4-1 record in the AMCC that put the squad into a tie for fifth place in the regular season standings. The team returned to the AMCC Tournament after two years, reaching the semifinal round. Penn State Altoona's 2019 roster will feature a strong core of returners, which 10th year head coach Pam Snyder Etters hopes will power her team's efforts this season.
Two of those returning athletes were named "Players to Watch" in the preseason poll, as junior midfielder Kierra Irwin (Altoona, PA/Altoona) and sophomore forward Sadie McConnell (New Enterprise, PA/Northern Bedford) were highlighted for Penn State Altoona.
Irwin, a team co-captain, was a first team All-AMCC selection in 2018, leading the conference in assists (9) while ranking third in shots attempted (68), seventh in points (19), eighth in game-winning goals (2), and 10th in goals scored (5) and shots on goal (24). On her team, Irwin was first in assists and shots while ranking second in goals, game-winning goals, points, and shots on goal.
McConnell's strong freshman season last fall resulted in her being voted to the second team of the AMCC All-Conference squad. In the conference, she was second in goals (13), game-winning goals (4), and shots on goal (40), third in points (29), seventh in shots attempted (57), and 10th in assists (3). McConnell led Penn State Altoona in goals, game-winning goals, points, and shots on goal.
Penn State Altoona women's soccer opens its 2019 season on the road, as the Lady Lions will travel to take on Neumann University on Saturday, August 31 at 2:00 p.m.