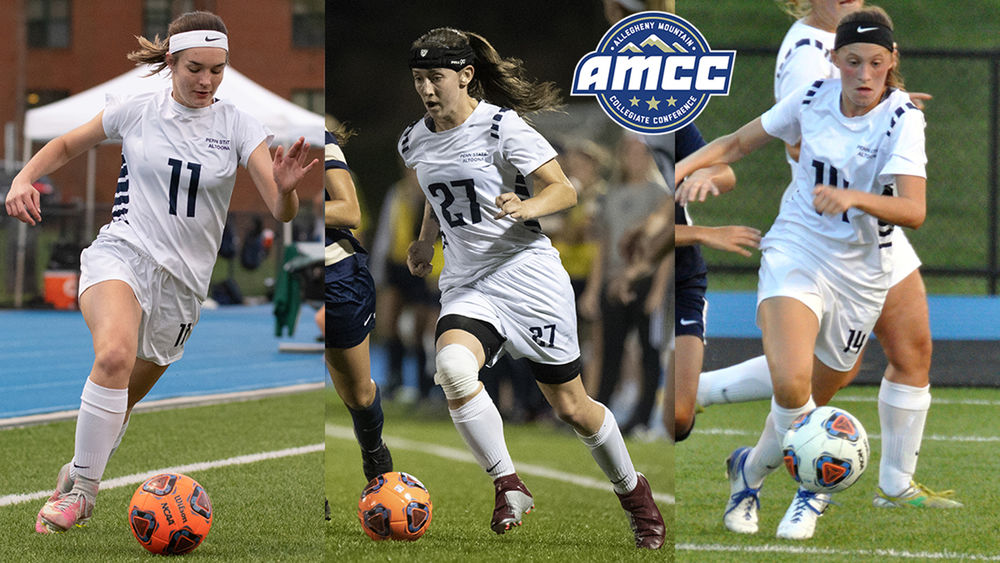 ORCHARD PARK, N.Y. – A trio of Penn State Altoona women's soccer players was named to the Allegheny Mountain Collegiate Conference's All-Conference team, which was released on Tuesday, November 6, 2018.
Sophomore midfielder Kierra Irwin (Altoona, PA/Altoona) was voted to the first team of the All-AMCC squad, while freshman forward Sadie McConnell (New Enterprise, PA/Northern Bedford) and freshman defender Alana Masullo (Bellefonte, PA/Bellefonte) were chosen to the second team.
Irwin started 18 of her team's 19 games this season and established herself as one of the most well-rounded players in the AMCC this season. Her vision and ball movement created plenty of offensive chances for the Lady Lions, despite frequently being the focus of opposing defenses. Irwin led the AMCC in assists (9) this season while also ranking third in shots (68), seventh in points (19), eighth in game-winning goals (2), and 10th in goals scored (5) and shots on goal (24). On her team this fall, Irwin was first in assists and shots while finishing second in goals, game-winning goals, points, and shots on goal.
This is Irwin's first selection to an AMCC All-Conference team in her collegiate career.
McConnell flourished in her freshman campaign with the Penn State Altoona women's soccer team, becoming one of the top goal-scorers in the league. Starting all 19 games for her team, the first-year forward ranked second in the AMCC in goals scored (13) and game-winning goals (4), and she was also second in shots on goal (40), third in points (29), seventh in shots attempted (57), and 10th in assists (3). McConnell led the Lady Lions this season in goals, points, shots on goal, and game-winning goals.
Earlier this season, McConnell was voted the HEROsports.com D3 HERO of the Week for her performance in a win over Hilbert College on October 20. In that contest, she scored two goals and added one assist while leading all players in the game with 10 shot attempts and nine shots on goal.
Masullo started all 19 games for Penn State Altoona this fall. After opening the season at outside back, she moved to center back midseason after an injury to the starter at that position. From that point on, the freshman took charge of a young Lady Lions' back line that consisted of three freshman and one sophomore playing in front of a freshman goalkeeper. Masullo's skill, speed, and vision, along with her leadership, proved to be big assets to Penn State Altoona's defensive efforts. The Lady Lions finished the season with the fourth-lowest goals against average (1.13) mark in the AMCC, as Masullo and her team helped to allow the fourth-fewest goals (22) of any team in the conference.
Masullo was named the AMCC Defensive Player of the Week on October 29.
Penn State Altoona women's soccer finished the season with a 9-8-2 overall record, including a 4-4-1 mark in the AMCC that placed the team fifth in the regular season standings and led to its first conference postseason tournament berth since 2015.