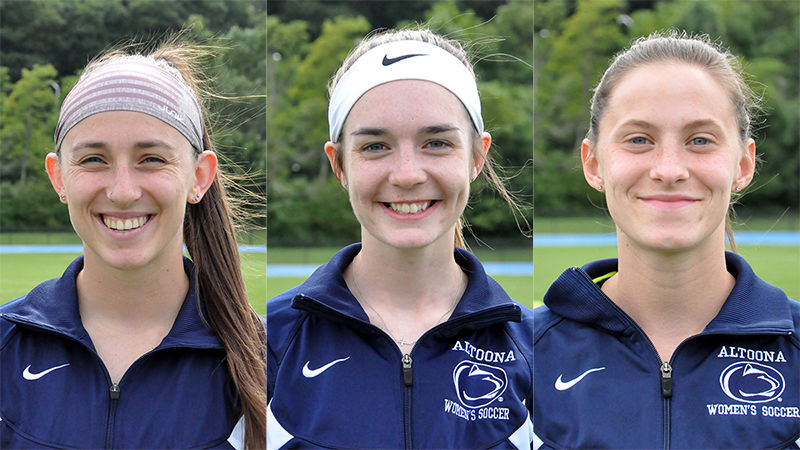 NORTH BOSTON, N.Y. — Three Penn State Altoona women's soccer players have earned spots on the All-Allegheny Mountain Collegiate Conference team, as the league released its postseason awards on Tuesday, Nov. 12.
Junior midfielder Kierra Irwin (Altoona, Pennsylvania/Altoona) was voted to the first team of the All-Conference squad, while sophomore forward Sadie McConnell (New Enterprise, Pennsylvania/Northern Bedford) took second-team honors and sophomore defender Alana Masullo (Bellefonte, Pennsylvania/Bellefonte) was selected to the third team.
Irwin had an excellent junior campaign for the Lady Lions, both offensively and defensively. In the AMCC, she ranked second in assists (8), sixth in shots on goal (31) and total shots attempted (64), 11th in points (18), and 19th in goals scored (5). Among her season highlights was notching her first collegiate hat trick on Sept. 28, finding the back of the net three times against Alfred State College. Irwin was selected the AMCC's Offensive Player of the Week two days later. The junior's hard-working style of play and field awareness were big assets to Penn State Altoona's defense, and she provided leadership and stability to a young roster.
This is Irwin's second appearance on an AMCC All-Conference team, as she was also a first-team selection at the conclusion of last season.
McConnell enjoyed a strong 2019 season, following up her great freshman year with a solid sophomore season. The forward again proved to be one of the AMCC's top scorers, ranking fourth in the conference in points (23) and game-winning goals (3), as well as fifth in total goals scored (9). McConnell was also eighth in the AMCC in shots attempted (49) and ninth in shots on goal (29). Despite being targeted by opposing defenses following her outstanding freshman season, the sophomore still managed to lead Penn State Altoona in goals and points for the second year in a row.
This is McConnell's second appearance on the All-AMCC team, after also being a second-team pick last fall.
Masullo continued to lock down a starting role on Penn State Altoona's backline, after starting 19 games for the Lady Lions in her freshman year. This season, the sophomore used her combination of intelligence and pace to establish herself as one of the top defenders in the AMCC, playing both the center back and outside back positions for her team, based on matchups. Masullo played in 15 games for the Lady Lions this season, making 14 starts and being part of a defense that helped the team record 1.84 goals-against-average mark. Her efforts helped the team post two shutouts while limiting five other opponents to just one goal.
This is the second time that Masullo has been voted to an All-AMCC team, as she was a second-team selection last year.
Penn State Altoona women's soccer finished the season with a 7-9-2 overall record. The Lady Lions went 5-4-1 in the AMCC, earning the number five seed in the conference tournament to secure an AMCC playoff berth for the second straight season.