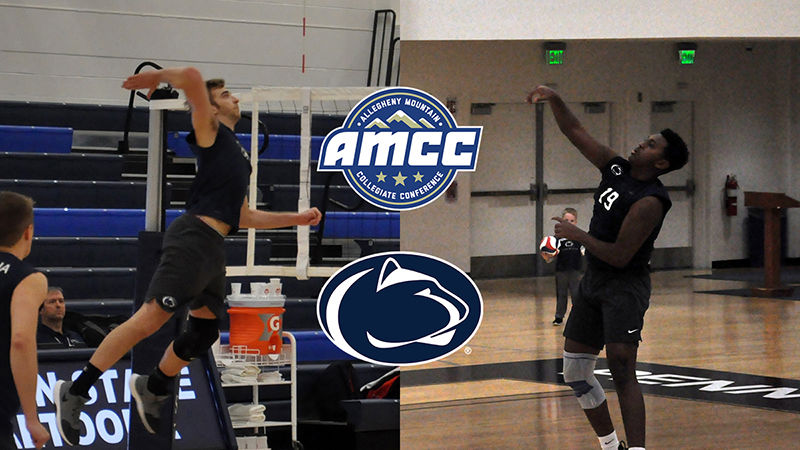 NORTH BOSTON, N.Y. — The Penn State Altoona men's volleyball team was voted into third place in the 2021 edition of the Allegheny Mountain Collegiate Conference Preseason Coaches' Poll.
Geneva College was picked to finish in first place, with Penn State Behrend coming in second.
Penn State Altoona had gotten out to an 8-11 overall record last season — including a 3-2 mark in the AMCC — before the spread of COVID-19 forced the suspension of athletic competition, canceling the remainder of the men's volleyball season. Head coach Phil Peterman, who is entering his ninth season at the helm of the program, will look to guide his 2021 squad through a schedule that will consist of seven AMCC matches.
Named in the poll as "Players to Watch" for the Lions this season were senior outside hitter Frank Perehinec (Altoona, Pennsylvania/Altoona) and sophomore outside hitter Abel Gebre (Palmyra, Pennsylvania/Palmyra).
Perehinec played in all 19 matches for Penn State Altoona last season and was voted to the second team of the All-AMCC squad. In the conference last spring, he ranked second in solo blocks (15), 11th in kills (147), kills per set (2.26), and points (175.0), 12th in total digs (117) and points per set (2.7), 14th in digs per set (1.8), 18th in total blocks (29), 25th in blocks per set (0.45), 28th in hitting percentage (.128), and 33rd in block assists (14). Perehinec also took AMCC Player of the Week honors on February 17, 2020.
Gebre appeared in 15 matches for the Lions last spring. Seeing action in 32 sets, he finished the year with 13 digs, 10 kills on 21 attempts (a .381 attack percentage), two solo blocks, and one service ace.
The men's volleyball team opens its 2021 schedule this Friday, March 12, on the road, traveling to Greenville, Pennsylvania, to face AMCC opponent Thiel College at 7 p.m.