Student athlete Catcher Cumming graduated in May after a standout four-year career with the Lions baseball program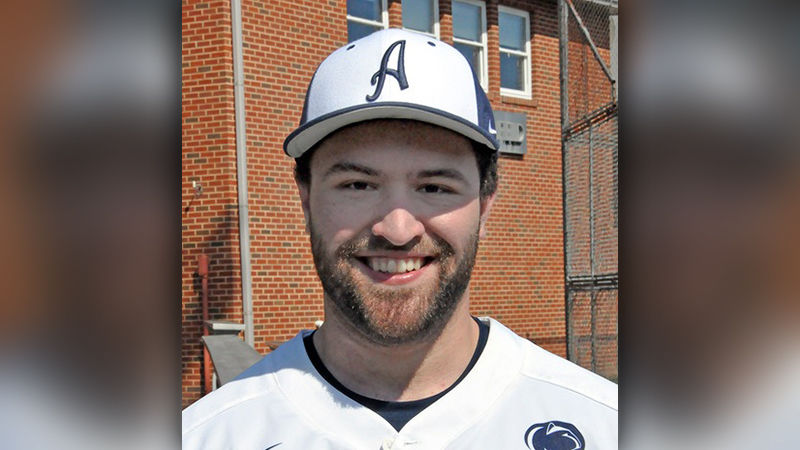 GREENWOOD, Ind. — Penn State Altoona baseball's first baseman Catcher Cumming (Altoona, Pennsylvania/Altoona) collected another postseason award on July 1 when he was selected to the 2020-21 College Sports Information Directors of America (CoSIDA) Academic All-District team.
Cumming, who graduated this past May after a standout four-year career with the Lions baseball program, becomes the first student-athlete in Penn State Altoona Athletics history to earn Academic All-District status from CoSIDA. Cumming's recognition is for the NCAA Division III District 4, which is comprised of Division III institutions in Pennsylvania. The graduate is one of just 12 players to earn first team status within District 4, and he is the only Allegheny Mountain Collegiate Conference baseball student-athlete to take CoSIDA Academic All-District honors this year.
CoSIDA's Academic All-District teams recognize the nation's top student-athletes for excellent performances both in the field and in the classroom. Student-athletes are nominated and voted upon by sports information directors and athletics communication professionals within each district who are CoSIDA members. All first team Academic All-District student-athletes will advance to the CoSIDA Academic All-America ballot, which will be voted on and announced later in July.
Cumming capped his four-year Penn State Altoona career with a stellar senior season this past spring. The slugger was voted the AMCC's Player of the Year, earned first team All-AMCC honors, and was named to the third team of the American Baseball Coaches Association/Rawlings NCAA Division III All-Mideast Region team.
Cumming led the AMCC in home runs (9) and slugging percentage (.778) while also ranking fourth in total bases (70), fifth in runs batted in (31), seventh in triples (2), 10th in runs scored (28), 11th in batting average (.378), 14th in on-base percentage (.458), 15th in hits (34), 17th in sacrifice flies (2), 19th in hit by pitch (4), 29th in walks (11), and 33rd in doubles (5). He was also impressive in the field, compiling a .994 fielding percentage while ranking fifth among all AMCC fielders in putouts (168) and 12th in double plays (11).
Cumming also etched his name in the team's single game and single season record books this season. The first baseman set a new Penn State Altoona baseball record for the most home runs in a game, hitting three on April 3 against Medaille College. 14 days later, Cumming matched that record by hitting three more home runs in a game versus Pitt-Bradford, during which he also set a new program single game record for total bases (13). By season's end, Cumming's .778 slugging percentage had set a new Penn State Altoona baseball single season record.
During the season, Cumming was named the AMCC Player of the Week on April 5, then took D3baseball.com Team of the Week and National Collegiate Baseball Writers Association (NCBWA) Division III National Hitter of the Week honors over the following two days.
Cumming graduated from Penn State Altoona in May with a degree in business after compiling a 3.88 cumulative grade point average. He was an AMCC Academic All-Conference peak performer in each of his four seasons, recognized by the conference for having a GPA of 3.5 or higher in each academic year. Additionally, Cumming was honored as Penn State Altoona's 2018-19 Male Scholar-Athlete of the Year.