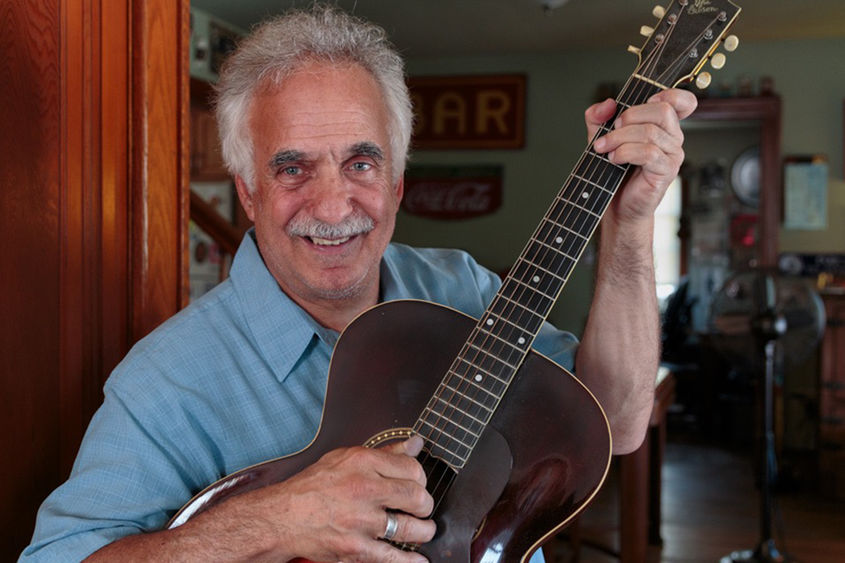 ALTOONA, Pa. — A phone call "right out of the blue," Jerry Zolten said, and next thing he knew he was working as a consultant and ultimately co-producer on a documentary about gospel singers, "especially quartets, postwar and into the 1950s," that would be a major influence on doo-wop, R&B, and soul. And now the result of that effort, "How They Got Over," will be screened in February at Penn State Altoona before it has even made the round of film festivals.
Zolten, associate professor of communication arts and sciences at Penn State Altoona, said filmmaker Robert Clem contacted him about the project six or eight years ago. Zolten had written the book "Great God A'Mighty! The Dixie Hummingbirds: Celebrating the Rise of Soul Gospel Music" (Oxford University Press, 2003), making him a logical choice for general consultant on the film. "He also asked me if I would appear on screen," Zolten said. "Of course I was willing!"
During his screen time Zolten explained the title: "'How they got over' is not only a religious context but also about how they got over in life, how at the time when these artists were developing their music there were very few options for African-Americans. They couldn't get any respectable, rewarding work." They had two options: "You could make a name through sports ... or as a musical entertainer. [In the film] I talk about what motivated these artists to sing, how the business worked, and how gospel singing imbued a sense of honor and dignity ... and that's how they got over."
To film the story Clem and occasionally Zolten traveled all over the country to interview performers and visit churches, buildings, street corners, and studios where history was made. The connection between black gospel and what is labeled "soul music" today is a familiar tale, with artists such as Aretha Franklin and James Brown getting their start singing gospel music. Sam Cooke, who has been called the "father of soul music," grew up singing in church and then performed with gospel groups, including one called the Soul Stirrers, before crossing over into popular music with "You Send Me" in the late 1950s.
Going back to the original performers was important. "A beautiful thing about the film is that it's packed with the real deal, the singers themselves, the legends," Zolten said. "Thank goodness we did because so many of them are no longer with us — Ira Tucker of the Dixie Hummingbirds, Joe Ligon of the Mighty Clouds of Joy, and soul singer extraordinaire Otis Clay, a major figure in R&B." Zolten said "one of the most exciting trips" was "to Chicago to interview Willie Rogers, one of the last surviving members of Sam Cooke's Soul Stirrers." They also filmed Ira Tucker in the small schoolhouse building where he went to school in Spartanburg, South Carolina.
One of the issues often faced when researching roots music performances is finding filmed material. In this instance, however, television provided a rich resource. "There was a syndicated show popular within the African-American community called "TV Gospel Time," which originated from a different city every week around the country," Zolten said. "They captured on film performances by historically important groups at the top of their careers — stunning performances from people like Reverend Claude Jeter, whose use of the phrase 'bridge over troubled water' inspired Paul Simon some years later, and Sister Rosetta Tharp [called the godmother of rock and roll]. The film is chock full of classic vintage performance clips by some of the most important groups in the genre."
In addition to Zolten, the film has other local connections. Jim Lenard Thompson, a longtime broadcaster in Altoona and former instructor in the School of Communications at University Park, and J. R. DiAndrea of DiAndrea Media served as executive producers. DiAndrea will join Zolten and Clem at the first public screening of "How They Got Over" at 7 p.m. on Feb. 16 in the Wolf-Kuhn Theater in the Misciagna building. Following the showing, the three will participate in an audience Q&A.