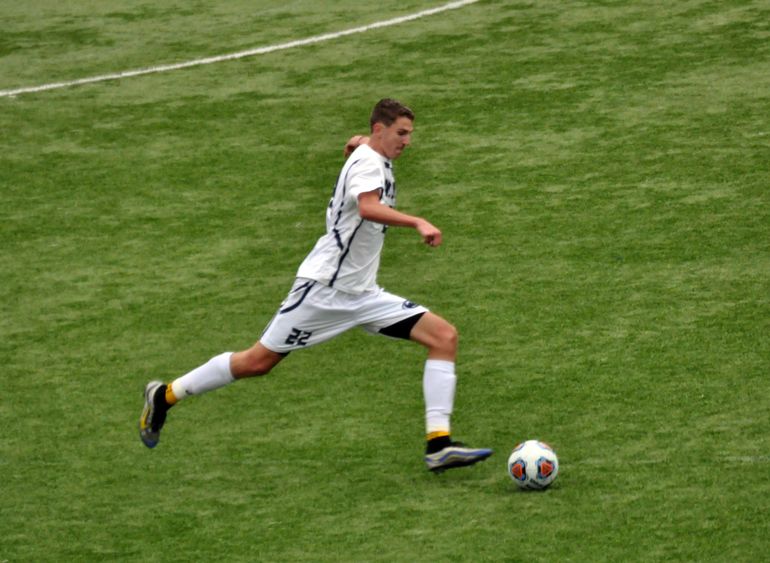 Men's Golf
Third place in the Allegheny Mountain Collegiate Conference Championships
The Lions shot 334 during day one and 324 in day two of the AMCC Championships at Avalon Lakes Golf Course in Warren, Ohio, to earn their second-ever third-place finish in the event.
Men's Soccer
Penn State Altoona 1, Penn State Behrend 1 (final/double overtime)
Lions freshman defender Jacob Weaver (Downingtown, Pennsylvania/Downingtown West) picked up three individual awards for his performance on the pitch last week. The AMCC named him its Defensive Player of the Week on Monday, October 10 before the Eastern College Athletic Conference recognized him on a wider scale as its Division III South Region Defensive Player of the Week and Rookie of the Week on Tuesday, Oct. 11. The previous week, Weaver scored one goal while contributing to his team's excellent defensive efforts in a pair of important AMCC games.
Women's Golf
Penn State Altoona freshman Claudia Ochoa (Fairfax, Virginia/Robinson Secondary) placed fourth in the AMCC Women's Golf Invitational.
Ochoa, competing as an individual for Penn State Altoona, shot 105 in day one of the event at Avalon Lakes Golf Course, then improved to shoot 95 on day two.
Women's Soccer
Penn State Behrend 4, Penn State Altoona 0
Women's Tennis
Penn State Altoona 5, Pitt-Greensburg 0
The Lady Lions' win over Pitt-Greensburg last Saturday, Oct. 8, was in the first round of the AMCC Tournament. The team now advances to play Franciscan University, the top team in the regular season standings, in the AMCC Semifinals on Saturday, Oct. 15.
Women's Volleyball
Penn State Altoona 3, Penn College of Technology 1
Lycoming College 3, Penn State Altoona 1
Sophomore outside hitter Kelsey Bristol (Troy, Pennsylvania/Troy) was selected as the AMCC Women's Volleyball Player of the Week. In three matches last week, she had 38 kills (3.17 kills per set), 72 digs (6.00 digs per set), nine service aces (0.75 aces per set), and six total blocks (0.50 blocks per set).