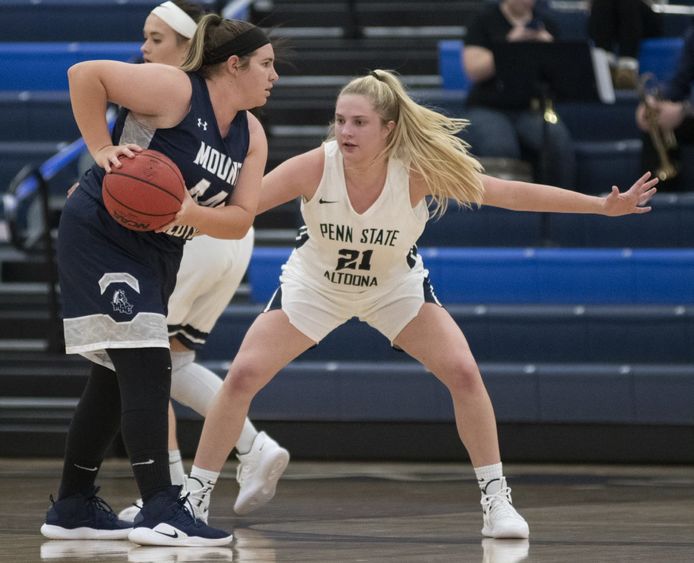 ALTOONA, Pa. — Penn State Altoona offers results and scores for varsity athletics from Nov. 26 to Dec. 9.
Men's basketball
La Roche University 113, Penn State Altoona 84
Pitt-Greensburg 81, Penn State Altoona 74
Penn State Altoona 78, Alfred State College 69
Sophomore guard Robbie Hicks (Rockledge, Florida/Rockledge) put up a career-high 32 points for the Lions, propelling his team to a win over Allegheny Mountain Collegiate Conference (AMCC) opponent Alfred State on Saturday, Dec. 7.
Men's swimming
Penn State Behrend 160, Penn State Altoona 67
During the Saturday, Dec. 7, home meet against AMCC opponent Penn State Behrend, senior Tanner Yaw (Palmyra, Pennsylvania/Palmyra) took first place in the 100 Yard Butterfly with a time of 56.46, and he combined with his teammates in the 200 Yard Freestyle Relay to post a time of 1:32.25 to take first.
Women's basketball
La Roche University 90, Penn State Altoona 68
Penn State Altoona 62, Pitt-Greensburg 58
Penn State Altoona 87, Alfred State College 49
Junior guard/forward Alexis Cannistraci (Tyrone, Pennsylvania/Tyrone) was selected the AMCC Player of the Week on Monday, Dec. 9, after she averaged 14.0 points per game, 14.0 rebounds per game, 3.0 blocks per game, 3.0 steals per game, and 2.0 assists per game in wins over AMCC opponents Pitt-Greensburg and Alfred State the previous week.
Women's swimming
Penn State Behrend 118, Penn State Altoona 69
Freshman Grace Dangelo (State College, Pennsylvania/State College) picked up her conference-leading fifth AMCC Women's Swimmer of the Week award on Monday, Dec. 9, after she posted three individual wins and one relay first place during Saturday's home meet against Penn State Behrend. Dangelo placed first in the 50 Yard Freestyle (25.98), the 200 Yard Breaststroke (2:34.73), and the 400 Yard IM (4:43.67), in which she set a new team record time. She also helped her team win the 200 Yard Freestyle Relay, combining with her teammates for a time of 1:49.84 to take first.