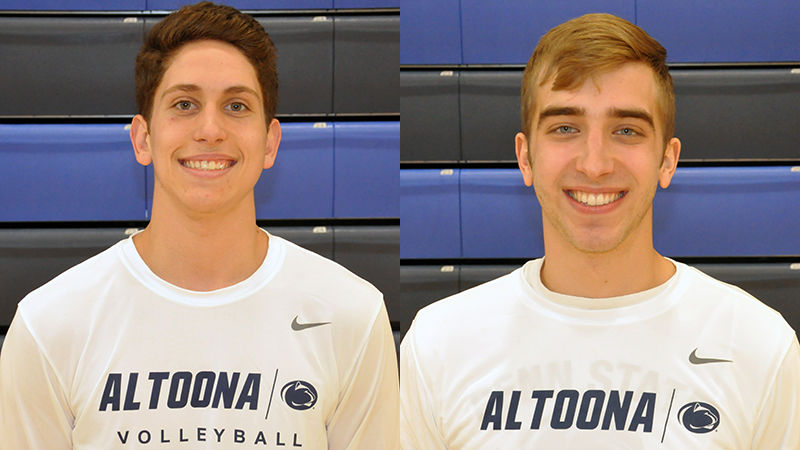 NORTH BOSTON, N.Y. — A pair of Penn State Altoona men's volleyball players earned All-Allegheny Mountain Collegiate Conference status on Tuesday, March 31, when the league released its postseason awards for the sport.
Sophomore outside hitter/setter Ben Beaver (Hummelstown, Pennsylvania/Lower Dauphin) was voted to the first team of the AMCC All-Conference squad, and senior outside hitter Frank Perehinec (Altoona, Pennsylvania/Altoona) was a second-team All-AMCC selection.
After being highlighted as one of Penn State Altoona's "Players to Watch" prior to the start of this season, Beaver followed through with an exceptional performance in all facets of the game. In the AMCC this year, the sophomore ranked among the top 10 players in the conference in several different statistical categories, being first in solo blocks (17), second in service aces (23), fifth in points (209.5) and service aces per set (0.35), eighth in kills (160) and points per set (3.2), and ninth in kills per set (2.46). Additionally, Beaver was 12th in the conference in assists (120) and assists per set (1.85), 14th in total digs (111) and total blocks (36), 15th in digs per set (1.71), 16th in blocks per set (0.55), 20th in hitting percentage (.158), and 22nd in block assists (19).
This is Beaver's first career appearance on an AMCC All-Conference team.
Perehinec, in his second season with the Lions volleyball team, developed into one of the top hitters in the AMCC while also showcasing equally strong defensive skill. In the conference this season, the senior ranked second in solo blocks (15), 11th in kills (147), kills per set (2.26), and points (175.0), 12th in total digs (117) and points per set (2.7), 14th in digs per set (1.8), 18th in total blocks (29), 25th in blocks per set (0.45), 28th in hitting percentage (.128), and 33rd in block assists (14). Additionally, Perehinec was chosen as the AMCC Men's Volleyball Player of the Week on February 17.
This is the first time in Perehinec's collegiate career that he has been voted to the AMCC All-Conference squad.
Penn State Altoona men's volleyball went 8-11 overall this season before the schedule was cut short with 10 matches remaining due to the COVID-19 spread. The Lions played five of their 14 AMCC matches this season, going 3-2 in the conference and settling into a tie for third place in the standings.