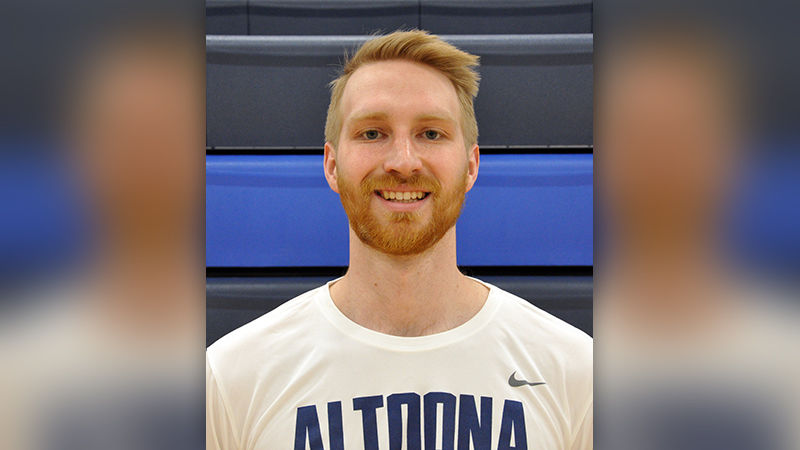 NORTH BOSTON, N.Y. – Penn State Altoona senior middle blocker Dan Downs (Douglassville, PA/Daniel Boone) was named the Allegheny Mountain Collegiate Conference's Player of the Week in men's volleyball on Monday, April 8, 2019.
Downs had an outstanding final week of the regular season for the Penn State Altoona men's volleyball team, helping the Lions go 2-2 in four AMCC matches.
In Wednesday night's 3-0 loss at Geneva College, Downs totaled seven kills, one dig, and one block assist. In a 3-0 victory over D'Youville College on Saturday, he posted team-highs with nine kills and three solo blocks while adding five digs. Later that day, in a 3-1 win over Medaille College, Downs again led the Lions in kills and blocks, recording 12 kills, three solo blocks, and two block assists, and he also chipped in two digs. In a 3-1 loss to Wittenberg University on Sunday, he tied for the team lead in kills with 10, posted a team-best three block assists, and tallied three digs.
On the week, Downs compiled an impressive .476 attack percentage while totaling 47.0 points, averaging 3.4 points per set. In his four matches last week, the senior racked up 38 kills (2.71 kills per set), 12 total blocks (0.86 blocks per set), and 11 digs (0.79 digs per set).
This is Downs' first AMCC Player of the Week award of the season.
Penn State Altoona men's volleyball is 13-15 overall, including a 5-9 mark in the AMCC. The Lions did not qualify for the AMCC's postseason tournament, but the team will hope for a bid into the Eastern College Athletic Conference Division III Tournament.