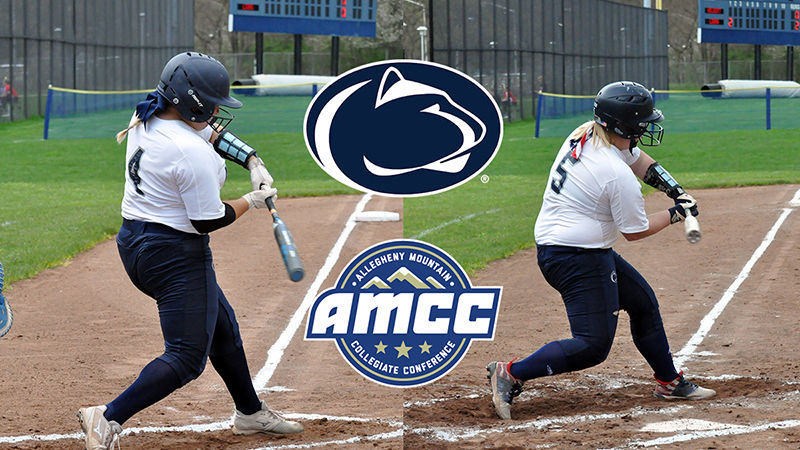 NORTH BOSTON, N.Y. — The Penn State Altoona softball team has been voted into seventh place in the 2020 edition of the Allegheny Mountain Collegiate Conference Preseason Coaches' Poll, released on Tuesday, Feb. 18.
Mount Aloysius College, which finished in second in the 2019 regular season standings and went on to win the AMCC Tournament, was picked to defend their title this spring. Penn State Behrend, last year's regular-season champion, was voted into second place. Franciscan University and Pitt-Bradford, which tied for third place in last season's standings, were selected third and fourth, respectively.
Penn State Altoona took seventh place in this year's preseason poll after finishing sixth in the AMCC standings last spring, when it posted an 8-10 record in the conference and an 18-20 overall record. Fifth-year head coach Joe Merilli's roster will feature plenty of new talent, as the team will be comprised of 10 newcomers in addition to five returning players.
Named as "Players to Watch" for Penn State Altoona in the poll were senior third baseman Abby Showers (Philipsburg, Pennsylvania/Philipsburg-Osceola) and junior outfielder/first baseman Olivia Miller (West Newton, Pennsylvania/Yough).
Last season, Showers was a second-team All-AMCC pick and also took honorable mention recognition on the Eastern College Athletic Conference's All-Division III team. In the AMCC, she ranked fourth in doubles (12), sixth in hits (48), eighth in on-base percentage (.442), ninth in total bases (62), and 10th in runs scored (30) and batting average (.384).
Miller was also a second-team AMCC All-Conference selection last year. In the AMCC, she finished fifth in doubles (11), eighth in home runs (2), 12th in hits (39), 14th in total bases (56), 16th in runs batted in (20), and 19th in slugging percentage (.487).
To view the 2020 AMCC Softball Preseason Coaches' Poll, click visit the AMCC site.
Penn State Altoona softball opens its schedule this Saturday, Feb. 22, for a doubleheader at non-conference opponent Bridgewater College (Virginia). The first game of the twin bill is slated to start at 1 p.m.