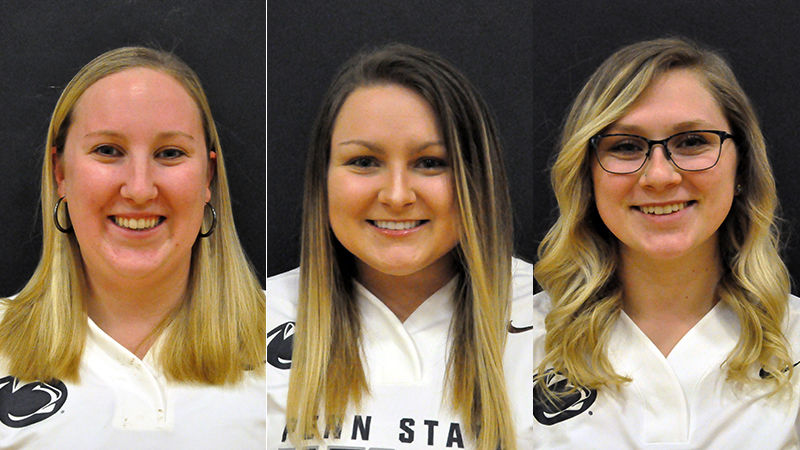 NORTH BOSTON, N.Y.—Three Penn State Altoona softball players were voted to the Allegheny Mountain Collegiate Conference's All-Conference team, as the league released its postseason awards on Wednesday, May 8, 2019.
Junior third baseman Abby Showers (Philipsburg, PA/Philipsburg-Osceola) and sophomore outfielder Olivia Miller (West Newton, PA/Yough) were voted to the second team of the All-AMCC squad, while freshman pitcher Sidney Lewis (Smithmill, PA/Moshannon Valley) was a third team selection.
Showers enjoyed a strong junior campaign with Penn State Altoona softball this spring, starting all 38 games for her team. In the AMCC, she ranked fourth in doubles (12), sixth in hits (48), ninth in total bases (62), 10th in runs scored (30), 11th in batting average (.384) and on-base percentage (.442), 16th in slugging percentage (.496) and stolen bases (7), and 24th in walks (10). Showers also managed the hot corner well, ranking fifth among all AMCC fielders with 80 assists.
Showers has now been an All-AMCC selection in each of her three seasons with Penn State Altoona. She was a first team pick in 2017 before taking second team honors in 2018.
Miller put together a solid sophomore season for the Lady Lions while taking over the starting center field job, and she played in and started 36 of her team's 38 games. In the conference, she ranked fifth this season in doubles (11), eighth in home runs (2), 12th in hits (39), 13th in total bases (56), 16th in runs batted in (20), 19th in slugging percentage (.487), 22nd in batting average (.339), and 29th in on-base percentage (.382).
This is Miller's first appearance on an AMCC All-Conference team.
Lewis emerged as Penn State Altoona's top pitcher during her freshman season this spring. In the AMCC, the right-hander ranked first in saves (1), fourth in wins (10), seventh in games started (16), ninth in complete games (11), and 11th in appearances (19). Lewis was also ninth in the conference in innings pitched (100 1/3) and strikeouts (56), 10th in earned run average (3.70), and 11th in strikeouts per game (3.91).
Penn State Altoona softball finished its 2019 season with an 18-20 overall record, including an 8-10 mark in the AMCC. The Lady Lions finished in sixth place in the conference standings by the end of the regular season, earning a berth into the AMCC Tournament, where the team was eliminated during the second day.