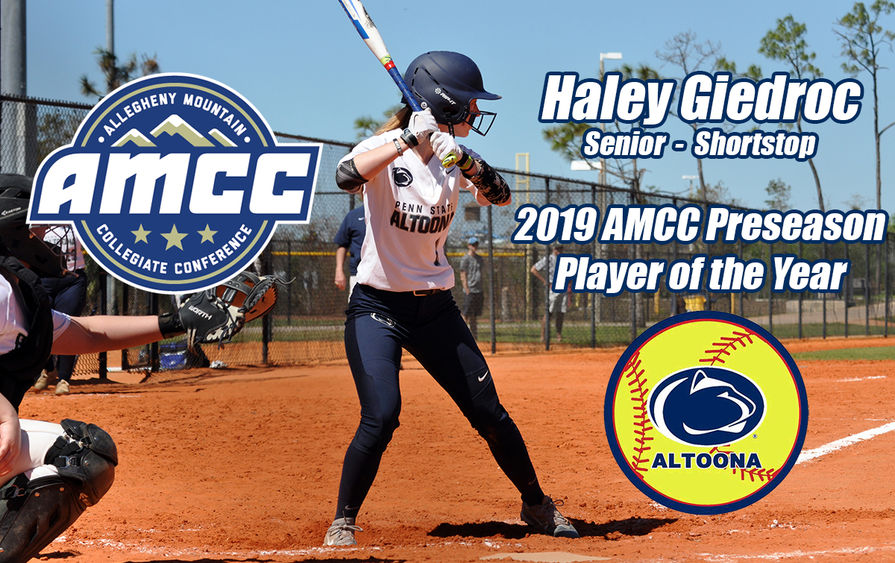 NORTH BOSTON, N.Y. – Penn State Altoona softball's senior shortstop Haley Giedroc (Howard, PA/Bald Eagle) was voted the Allegheny Mountain Collegiate Conference's 2019 Preseason Player of the Year, headlining the conference's Preseason Coaches' Poll that was released on Wednesday, February 20, 2019.
Giedroc is coming off of a junior campaign in which she was selected to the first team of the AMCC's All-Conference squad. In the AMCC last season, Giedroc ranked second in doubles (14), third in runs scored (38), runs batted in (30), total bases (81), on-base percentage (.497), and slugging percentage (.638), fifth in hits (54), stolen bases (19), and batting average (.425), and seventh in home runs (3). With the glove, she also led the conference in assists (110) while helping to turn the second-most double plays (9) of any player in the league.
Giedroc and junior third baseman Abby Showers (Philipsburg, PA/Philipsburg-Osceola) were both named in the preseason poll as "Players to Watch" this season for Penn State Altoona.
Showers was voted to the second team of the All-AMCC squad after her second year with Penn State Altoona softball last spring. In the conference, she ranked fourth in runs scored (32), fifth in doubles (9), seventh in walks (12) and stolen bases (16), eighth in hits (48), 12th in total bases (59), and 14th in batting average (.372) and on-base percentage (.434). Showers was also second in the AMCC in assists (88) and fifth in double plays (7).
In the poll, Penn State Behrend was picked to finish first, with Medaille College coming in second and reigning AMCC champion Mount Aloysius College voted into third place. Penn State Altoona, which tied for third in the regular season standings last year with a conference record of 10-8 to go along with an overall mark of 22-17-1, finished fourth in the poll.
Penn State Altoona softball is slated to open its 2019 season this Saturday, February 23, when the Lady Lions will travel to Virginia to face Bridgewater College in a doubleheader beginning at 1:00 p.m.