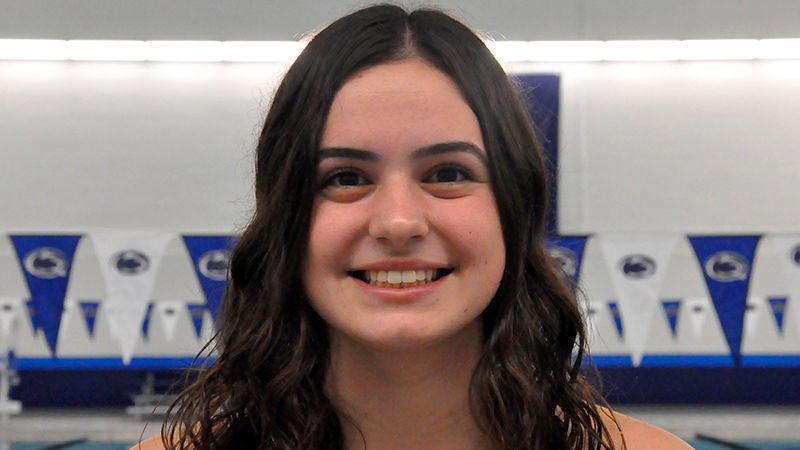 NORTH BOSTON, N.Y. — Penn State Altoona freshman Grace Dangelo (State College, PA/State College) has been named the Allegheny Mountain Collegiate Conference Women's Swimmer of the Week for the league-high seventh time this season.
Dangelo had each of Penn State Altoona's three first place finishes in the Lady Lions' tri-meet losses to non-conference opponents Hood College and Bryn Mawr College on Saturday afternoon. One of Dangelo's times represented a new women's swimming program record, her sixth new team record set this season.
Dangelo won the first individual swim of the women's meet, the 400 Yard IM, by clocking in at 4:46.32. Several events later, she placed first in the 100 Yard Butterfly with a time of 1:00.66. Dangelo's new team record came in the 50 Yard Butterfly, during which she recorded a time of 27.46 to come in first place. That time bested the previous record of 28.19, set by former swimmer Ashley Nero on February 12, 2015.
Dangelo was also part of a relay team that earned a third place finish in Saturday's meet, joining together with her teammates to post a combined time of 1:51.98 in the 200 Yard Freestyle Relay.
This is Dangelo's seventh AMCC Women's Swimmer of the Week nod this season, and it marks the AMCC-best ninth time that a Penn State Altoona women's swimmer has earned the weekly award.
To view the AMCC's listing of Dangelo as this week's Women's Swimmer of the Week, click HERE.
The Penn State Altoona women's swimming team resumes competition next month, when the Lady Lions will take part in the four-day, season-ending AMCC Championships on February 19-22 at Webster Aquatic Center in Webster, N.Y.