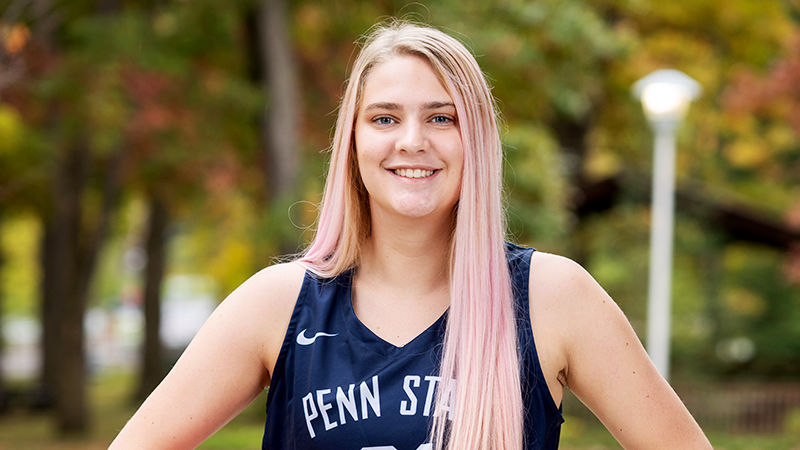 NORTH BOSTON, N.Y. — Penn State Altoona women's basketball junior guard/forward Alexis Cannistraci (Tyrone, Pennsylvania/Tyrone) was selected the Allegheny Mountain Collegiate Conference's Player of the Week on Monday, Nov. 18, for her performance last week.
Cannistraci got her 2019-20 season off to a great start, helping the Penn State Altoona women's basketball team go 1-1 against a pair of opponents from the Presidents' Athletic Conference.
In Wednesday night's season-opening 82-63 win at Geneva College, Cannistraci led all scorers with 23 points, posted a team-high 12 rebounds and five steals, and added three assists and two blocks. In Friday evening's home opener, a 108-83 loss to Saint Vincent College, Canistraci put up 18 points and grabbed a team-best five rebounds, and she also finished with three assists and a pair of steals.
On the week, Cannistraci averaged 20.5 points per game, 8.5 rebounds per game, 3.5 steals per game, 3.0 assists per game, and 1.0 block per game. The junior shot 56.5 percent (13-for-23) from the field, including going 3-for-6 from three-point range. She also posted an 85.7 percent (12-for-14) free throw percentage.
This is Cannistraci's third career AMCC Player of the Week award, and it is her first of the season. To view the AMCC's listing, visit the AMCC website.
Penn State Altoona women's basketball travels for its third game of the season tomorrow, Tuesday, Nov. 19, hitting the road to face Division II opponent Lock Haven University at 6 p.m.